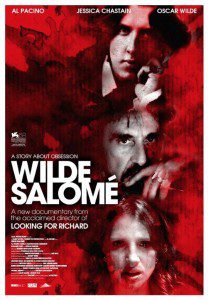 A film that I've been waiting almost a decade to see… is going to be screened in England later this year.
The first time I wrote about Al Pacino's plan to make a movie about Oscar Wilde's Salome — mixing behind-the-scenes footage with dramatized sections of the play — was in April 2006, only a year or so after I started this blog. At the time, the film was going to be called Salomaybe?, and it was set to star Pacino as King Herod, Kevin Anderson as John the Baptist and Jessica Chastain as Salome. (This was five years before The Tree of Life and The Help put her on the map.)
Then, in March 2007, the film was in post-production.
Then, in February 2009… the film was still in post-production.
Shortly after that, I went on a bit of a blogging hiatus that lasted about three years, until I joined Patheos in 2012. But apparently the film was eventually finished and it premiered at the Venice Film Festival in 2011, under a new title: Wilde Salomé.
And since then? Nothing, as far as I can tell: no other screenings or releases are listed at the IMDb, and although a release date of October 2013 is listed at Rotten Tomatoes, the few reviews there all go back to the film's Venice premiere two years earlier.
Meanwhile, Pacino has created a second film called simply Salomé, which apparently screened at least once in Los Angeles in August 2013. This appears to be a straightforward interpretation of the play, without the behind-the-scenes stuff of the original film. But the IMDb does not list any sort of release beyond that initial screening, and Rotten Tomatoes doesn't even have a page for the film.
The long, long process of getting the movies made has been documented in a book by Lawrence Grobel that came out early last year, called
"I Want You in My Movie!" My Acting Debut & Other Misadventures Filming Al Pacino's Wilde Salome
.
I mention all this because The Hollywood Reporter just ran a story saying that both films will be screened back-to-back in cinemas across the United Kingdom and Ireland on September 21, followed by a Q&A between Pacino and Stephen Fry that will be broadcast live to those same theatres. (Fry played Wilde in a 1997 film.)
The fact that these films are getting shown somewhere gives me hope that I'll be able to see them myself someday. The question is: when? It's been a while, now.
Update: Here's the trailer that was released before the Venice premiere in 2011:
August 7 update: Here's a trailer for the British event that went online last week: