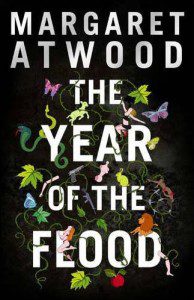 Now that he's just about finished promoting his environmentally conscious movie about a Flood that wiped out most of the world's population in the distant past, Darren Aronofsky has signed on to produce an environmentally conscious HBO series about a "Waterless Flood" — actually a pandemic brought about by genetic engineering — that wipes out most of the world's population in the near future.
The series, MaddAddam, will be based on Margaret Atwood's trilogy of that name, which includes the books Oryx and Crake and The Year of the Flood.
Interestingly, this series not only has the environmental themes that Aronofsky has been plugging into lately, but it may have the sort of religious themes that have popped up throughout his filmography as well. I have not read these books, but I gather that they revolve, in part, around a group of people known as "God's Gardeners". Here is how Atwood described them in an article for Sojourners on the real-life Christian environmental group A Rocha:

I met Markku and Leah Kostamo of A Rocha, an international Christian environmental organization, on the set of a television show in Toronto. The show was Context, hosted by the welcoming Lorna Dueck. This show explores the stories behind the news from a frankly Christian viewpoint.

I had been invited to talk with Dueck about my MaddAddam future-time book trilogy, and in particular about characters in the second book, The Year of the Flood, called the 'God's Gardeners,' a green religious group that raises vegetables and bees on flat rooftops in slums. It is headed by a man called Adam One and includes a number of ex-scientists and ex-doctors who have withdrawn from a too powerful, greedy corporate world in which they can no longer function ethically.

The God's Gardeners group represents the position – probably true – that if the physical world is going to remain possible for human life, religious movements of many kinds will be an important element. We don't save what we don't love, and we don't make sacrifices unless 'called' in some way to make them by what AA refers to as 'a higher authority.'

Dueck and I talked a little about that, and then – surprise – right before me were two people who closely resembled the God's Gardeners of my fiction. Leah and Markku Kostamo are walking the God's Gardeners walk – through A Rocha, a hands-on creation-care organization. . . .
Aronofsky has expressed his admiration for Atwood before, e.g. by tweeting the following picture of her and her fellow Canadian environmentalist David Suzuki on March 13, just two weeks before Noah came out:
two heroes, @DavidSuzuki and @MargaretAtwood : pic.twitter.com/kjzchzP4Y0

— darren aronofsky (@DarrenAronofsky) March 13, 2014
He and his co-writer Ari Handel also took part in a panel discussion on 'Noah and the Nexus of Faith and Environmentalism' on April 23:
Aronofsky also addressed the distinction between "dominion" and "stewardship" of creation in an article for the Huffington Post the day that Noah came out.