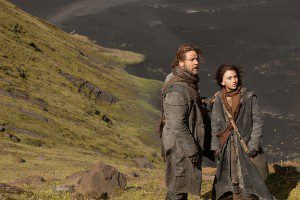 It seems like the Oscars happened just last month. Oh, wait, that's because they did happen just last month. So we have almost a year to go before the next batch of golden statues are handed out. Still, why wait to campaign for next year's awards when you could start right now!
Two weeks ago, Pete Hammond wondered whether critically-acclaimed films like Noah and The Grand Budapest Hotel might have a shot at the Oscars, despite the fact that they were released so early in the year. Now comes word, via Deadline and Variety, that Paramount has already started its campaign for Noah.
Specifically, the studio sent out an e-mail telling Academy members that, as of this week, they can see Noah for free between Mondays and Thursdays at certain participating theatres — a move that Hammond, writing for Deadline, says is fairly routine during awards season but "rare and highly unusual" this early in the year.
The studio's e-mail also "specifically mentions the names of the key creatives in every category [the film] would be eligible right down to a song called 'Father Song (Lullaby)' written by Patti Smith, Lenny Kaye and star Russell Crowe."
Hammond infers from all this that Paramount must be planning a full-on Oscar campaign closer to the actual awards season at the end of the year.
Tim Gray, writing for Variety, says the studio will probably send out the usual DVD screeners at the end of the year, but for now they want to ensure that people take in the movie's massive production design on the big screen.
Meanwhile, in other news, the Center for American Progress in Washington, DC is hosting a panel next Wednesday afternoon on 'Noah and the Nexus of Faith and Environmentalism'. Participants will include director Darren Aronofsky, co-writer Ari Handel, the executive director of the Sierra Club, and others.
April 23 update: You can watch the panel discussion here (via Mother Jones):