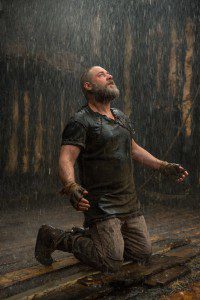 So, Noah had a great first weekend in North America and many other territories. How did it do so well? What are the film's prospects going forward? And what does this bode for other possible Bible movies?
First, Paramount vice chairman Rob Moore — who attends a Vineyard church in Los Angeles — has given a few interviews commenting on how his studio beat some of the controversy that some people had whipped up in the months leading up to the film's release.
Speaking to The Hollywood Reporter, he said a key "turning point" came when the studio openly admitted that the film was "inspired by" the Bible story but was not a "literal" version of it, whatever that would mean. He also commented on how the film has been received by different communities:

Noah is doing big business so far overseas, including in Russia. Is there the same sort of controversy internationally?

Maybe a little bit in the U.K., but otherwise, no. Other countries and other cultures are more accepting of the idea that art can be inspired by the Bible.

Where did Noah play best in the U.S.?

It was unusual. You had screens in New York doing well, and then screens in places like Nashville. You definitely have an upscale audience in terms of people who are fans of Darren's movies, and then you see where the movie really delivered in Hispanic Catholic markets and Southern Christian markets.
In a similar vein, Paramount marketing and distribution president Megan Colligan commented on the diversity of the audience in the Los Angeles Times:
"Noah" brought in a diverse crowd, Colligan said, a 50-50 split of male and female audience members. The film generated strong turnout among Christians, Catholic Latinos and African Americans, plus "lots of Aronofsky fans in major cities," Colligan said.

"There was a pretty good balance of age ranges but a little bit of an older crowd, which we expected," she said.

In Santa Monica, one packed AMC theater gave the film a standing ovation Saturday night.

"At first I thought maybe we walked into the wrong movie — it was a little cheesy of a start," said Astacia Christenson, 36. "But it worked out because you got into the characters, there was some good acting and the story picked up and got more interesting. The movie saved itself."
Meanwhile, in USA Today, Moore commented on the film's C rating at CinemaScore:
"The one thing CinemaScore doesn't pick up well is when feelings are passionate on either side," says Rob Moore, Paramount's vice chairman.

He says that 63% of audiences gave the PG-13 movie an "A" or "B," while 14% gave it a "D" or "F," bringing down the average. He says that the backlash comes from "outliers" who expected Noah to be a strict biblical interpretation.
To my Patheos colleague Rebecca Cusey, Moore said that the film's success overseas may pave the way for even more Bible films:
The shift to an increasingly global focus by studios will mean that the success of Noah internationally may smooth the path for future Bible films, Moore said. "The biggest dynamic that's changed in the last five years is the global focus," he said, "Movies that resonate with a global market have a bigger opportunity to get made because of their international appeal."
CNN's Belief Blog notes that John Snowden, the film's biblical advisor, is a former youth pastor at Moore's church — and it notes how the conversations between Snowden and the filmmakers ranged from the trivial to the significant:
The studio also hired a Christian consultant for the film. John Snowden is a former youth pastor at Vineyard Christian Fellowship Church, where Moore, the Paramount executive, is a member.

Snowden, who was pastor to Moore's son, said the filmmakers' questions ranged from the sublime (Why did God create human life?) to the ridiculous (Would Christians be upset if Noah wears pants?).

"I gave them a sort-of manifesto of Christian theology," said Snowden, 38, who now lives in Nepal. "The most important part of the story is why God created humanity, which is basically to reflect God's glory. Those are the kind of conversations we would have."
The Christian Science Monitor observes that the controversy over Noah may reflect a generational shift between two kinds of evangelicals:
But the return of the biblical epic, say many in the industry, has a lot to do with changes among Evangelicals themselves.

"I think what we're seeing is that there's really a break between two audiences in this group," says Erik Lokkesmoe, a co-founder of Different Drummer, a global marketing and publicity agency with expertise in the religious-themed film market. An older generation of Evangelicals, he says, places more of an emphasis on the "message" of a film versus the story and sees the value of a movie in its affirmation of cultural beliefs, or even its ability to convert an audience.

"But I think that is a peaking audience," says Mr. Lokkesmoe. "There's certainly a market for that, but it's not going to be the future, because I think more and more Evangelicals, especially young Evangelicals and young believers, are wanting more of a story-based, very aspirational kind of film." . . .

It is such an emphasis on the inherent ambiguities of storytelling, say industry observers, that might drive a younger generation of Evangelicals, who are more tech-savvy, diverse, and globally aware, to go out and see the new Bible-based films.

"My sense is that Noah really captured these more story-driven believers who are looking for pure entertainment that allows them to think deeply about their faith and about what it means to be a Christian – and even to create great imaginative works of art," says Lokkesmoe.

"They want to know the reality of characters," he continues. "They don't want it to be fixed and predictable, they want margins to allow themselves to be able to think about it, or have meaningful conversations about what the Scriptures are saying, or what should a filmmaker be portraying on the screen when it comes to the Scriptures."
The Wall Street Journal notes, similarly, that religious groups are "split" on Noah. It adds some interesting detail on the role some Christians — especially Jerry Johnson and the National Religious Broadcasters — played in shaping the film's reception:
Crucial feedback on "Noah" came last month when Jerry A. Johnson, the head of the National Religious Broadcasters, settled into his seat in a screening room on the Paramount lot. His thumbs-up would give the studio a valuable endorsement from the largest network of Christian broadcasters in the U.S., reaching tens of millions of listeners and viewers.

Mr. Johnson, a Baptist who taught college courses on film and theology, wasn't quite prepared for some of what followed—including Mr. Crowe's Noah scolding his son for picking a flower amid a desolate landscape, and later contemplating killing his infant grandchildren.

Before the lights came up, a member of the organization also invited to see the film turned to Mr. Johnson and said, "I'm not sure we should do this at the NRB."

While not endorsing or opposing the movie, Mr. Johnson says he objects to the movie's environmental message but applauds the film's "serious treatment" of sin and God's judgment—and its high production value. At his urging, Paramount added a disclaimer to marketing materials saying the film is "inspired by the story of Noah" and alerting viewers that "artistic license has been taken."
The Journal also speaks to people who have been involved with upcoming films like Exodus: Gods and Kings and the still-in-development Mary and Pontius Pilate:
"Mary," which producers expect to be released by Lions Gate Entertainment Corp. next year, chronicles the early years of Jesus' mother—a focus one producer said would help cast her as a heroine for a market that's taken to young female characters like Katniss Everdeen of "The Hunger Games."

"Hollywood is very predictable, and if 'Noah' doesn't work, Hollywood would take it as, 'We can't do this,' " said Mark Johnson, a producer at Gran Via Productions who is developing a movie about Pontius Pilate at Warner Bros., with Brad Pitt slated to star. A Hollywood prayer group recently asked members to pray to give Mr. Pitt "the wisdom to take the role."

Support from influential church leaders can translate to endorsements from the pulpit and sold-out theaters.

Outreach can begin as much as a year before a film's release, and must engage "bell cows": influential, socially connected Christians who can share the movie with others, said Larry Ross, who runs a Christian consulting and public relations company.

Barry Taylor, an Episcopal priest asked by filmmakers to review the script for "Exodus: Gods and Kings," a December release from director Ridley Scott and starring Christian Bale as an armor-wearing Moses, said Hollywood is trying to be respectful of believers without being "held hostage" to particular interpretations.

Mr. Taylor, who teaches culture and theology at Fuller Theological Seminary in Pasadena, Calif., believes Hollywood "has a genuine desire to have both support from and give honor to" religious communities.
On the day of the film's release, The Hollywood Reporter also had a story looking at how many of the same church leaders who promoted Son of God in February were being more cautious about Noah — though some did like the film.
On a completely different note — trivial from a theological perspective but perhaps significant from an industry perspective — Pete Hammond, who writes about everything Oscar-related for Deadline, asks whether Noah might get any attention from the Academy despite being released so early in the year:
Of course this is not exactly crunch time for serious 2014 Oscar contenders, so distributors need not worry too much about disgruntled voters getting turned away from their hot-button potential nominees. But recently I got an email from a veteran Oscar campaign consultant who asked the simple question, "Is NOAH a contender?" And it got me wondering if not only director Darren Aronofsky's towering epic, which screens Sunday at 3 PM, but also Wes Anderson's Grand Budapest Hotel, which runs Saturday at 7:30 PM both might actually have a decent shot at racking up numerous nominations, including Best Picture, despite their first quarter release dates (Noah opened March 28 and Budapest has been playing since March 7th). Both are doing extremely well at the box office and riding high with critics too (Noah is 77% fresh and Budapest is 91% fresh at Rotten Tomatoes) and have the kind of first-rate production values to which Oscar voters usually pay serious attention. In fact, it is hard to imagine that either could possibly be denied a Production Design nod, for example, no matter what comes along in the rest of the year. Both have potential way beyond that, at least on paper, as both also come from very critic and Academy-friendly directors. But the odds are already really stacked against these two if their respective studios have Best Picture ambitions brewing based on strong early response to the films. . . .

The fact is the Oscar voters just don't seem to have long memories anymore (no age jokes, please). The last film released before May to get a Best Picture nomination was Erin Brockovich, a March release in 2000. Before that, Fargo, a 1996 March release also managed a Best Pic nod. The last film to win Best Picture with a first quarter release was 1991′s Valentine's Day opener, Silence Of The Lambs. Things are a little better for releases in the first half of the year if you come out in May or June. May releases Braveheart (1995), Gladiator (2000) and Crash (2005) all managed to win Best Picture Oscars in the last quarter century, and most recently The Hurt Locker (2009) turned that trick despite a late June opening. In the case of the latter two movies, lots of screeners helped enormously in leveling the playing field against stiff December competition. But the odds, at least based on more recent Oscar voting patterns, are clearly daunting for the Aronofsky and Anderson pictures. It's true that in 2011, Midnight In Paris and The Tree Of Life, both May releases, landed Best Picture nominations but the norm is more like 2013 when the earliest contender, Gravity didn't come out until October. It's not called "awards season" for nothing.

In the case of Noah, the Academy also doesn't have a sterling track record honoring films in the Biblical genre. Sure, Ben-Hur won in 1959 and with 11 Oscars is tied with Titanic and Lord Of The Rings: Return Of The King as the all- time Oscar winner. And Cecil B. DeMille's The Ten Commandments was a 1956 Best Picture nominee. There have been scattered technical nominations (but no wins) since for the likes of The Greatest Story Ever Told (1965), The Gospel According To St. Matthew (1964), The Bible (1966), Jesus Christ Superstar (1973) , The Last Temptation Of Christ (1988) and Mel Gibson's box office juggernaut The Passion Of The Christ in 2004. The most significant recognition among those films was a Best Director nomination for Martin Scorsese for Last Temptation. Of course Noah also has Russell Crowe in another epic kind of role like his Oscar-winning turn in 2000′s Best Picture sword and sandal epic Gladiator, so the biblical label may not hurt its chances as much as its release date will.
There is also the possibility that Exodus: Gods and Kings — coming out in December, right in the thick of awards season, and directed by Ridley Scott, whose Gladiator won Best Picture — could get some Oscar attention, in which case it's unlikely that the Academy would nominate two such films for major awards. Still, you never know.