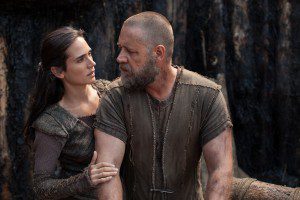 The box-office estimates are in for this weekend, and the news on that front is very good for Noah, and perhaps for the Bible-movie genre as a whole.
Audience reactions to the film, however, are more of a mixed bag, which could affect the film's long-term prospects.
Noah made an estimated $44 million in the United States and Canada between Thursday night and Sunday, and it has earned another $51.1 million overseas; the film opened in Mexico and South Korea one week ago and opened in another 20 territories on Thursday or Friday.
This is by far the best opening ever for a film directed by Darren Aronofsky; in fact, Noah has already outgrossed all but one of Aronofsky's previous films, the sole exception being the ballet-dancer horror movie Black Swan (2010), which topped out at $107 million in North America and another $222.4 million overseas.
This is also the best opening ever for a film in which Russell Crowe has the undisputed lead role; the only film of his that had a bigger opening is Man of Steel (2013, $116.6 million), in which he had a supporting role as Superman's father. Crowe's previous second-best opening — which might remain his second-best if Noah's actual earnings turn out to be slightly lower than the estimate — was for American Gangster (2007, $43.6 million), in which top billing went to Denzel Washington.
Noah ranks pretty high on the opening-weekend lists for several of its other stars, too. It marks the second-best opening for Jennifer Connelly, behind Hulk (2003, $62.1 million); the best opening by far for Emma Watson outside of the Harry Potter franchise; the best opening ever for Logan Lerman; the fourth-best opening for Ray Winstone; and the sixth-best opening for Anthony Hopkins.
Among Bible films, Noah's North American opening ranks second only to that of The Passion of the Christ (2004, $83.8 million), and its first-weekend earnings are already ahead of the total amounts earned by most other Bible-themed films released since people started keeping close track of the box office about 35 years ago:
2004 — $370.8 million — The Passion of the Christ
1998 — $101.4 million — The Prince of Egypt
2014 — $57.9 million — Son of God
2014 — $44.0 million — Noah
2009 — $43.3 million — Year One
2006 — $37.6 million — The Nativity Story
1981 — $31.7 million — History of the World, Part I
2002 — $25.6 million — Jonah: A VeggieTales Movie
1979 — $20.0 million — Monty Python's Life of Brian
1980 — $14.2 million — Wholly Moses!
2006 — $13.4 million — One Night with the King
1988 — $8.4 million — The Last Temptation of Christ
1985 — $5.1 million — King David
2003 — $4.1 million — The Gospel of John
The question now is what sort of "legs" the film will have.
Pre-release surveys indicated that interest in the film was highest among older moviegoers, who tend to take their time getting to the theatre; this indicated that the film could have some staying power at the box office in the weeks to come.
The fact that the weekend's estimates kept rising — from $35 million or more going into the weekend, to $41 million or more on Saturday morning, to the current estimate today — could also indicate that word-of-mouth has been good.
But audience response this weekend has been divided at best: the film got a C from CinemaScore, and a 49% audience rating (as opposed to a 76% rating from critics) at Rotten Tomatoes, so poor word-of-mouth could hit the film hard next week.
That being said, Noah does stand a better than decent chance of grossing at least $100 million in North America by the end of its theatrical run.
Over 200 films have had opening weekends of $40 million or more, and only seven of those films — Scary Movie 4 (2006), Cloverfield (2008), High School Musical 3: Senior Year (2008), Friday the 13th (2009), Tyler Perry's Madea Goes to Jail (2009), Paranormal Activity 2 (2010), Insidious Chapter 2 (2013) — failed to cross the $100 million line. And most of those films were sequels and/or horror movies.
Plus, no film that has opened to $44 million or more has ever grossed less than $107 million in North America when all was said and done.
The studio, for its part, is hoping that Noah will perform more like Shutter Island. Released by Paramount in February 2010, that film opened to $41.1 million and a C+ CinemaScore and went on to gross a total of $128 million in North America (and another $166.8 million overseas) when all was said and done.
Meanwhile, God's Not Dead has continued to surprise by dropping only 1.5% in its second week. The $9.1 million it earned was enough to nab it the #5 spot for the weekend, and the film now has $22 million altogether, which makes it the third-highest-grossing church-based movie that wasn't based directly on the Bible:
2011 — $34.5 million — Courageous
2008 — $33.5 million — Fireproof
2014 — $22.0 million — God's Not Dead
2008 — $13.0 million — The Pirates Who Don't Do Anything
1999 — $12.6 million — The Omega Code
2006 — $12.0 million — End of the Spear
2006 — $10.2 million — Facing the Giants
2008 — $7.7 million — Expelled: No Intelligence Allowed
2001 — $6.0 million — Megiddo: The Omega Code II
Son of God, meanwhile, grossed $1.1 million and took the #15 spot in this, its fifth weekend. The film's total currently stands at $57.9 million.