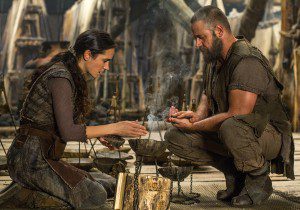 Out with the old, in with the new.
The latest box-office estimates are in, and it seems that Son of God fell out of the top ten in this, its fourth weekend. The film earned $2.7 million between Friday and Sunday, or just a tenth of what it made when it opened three weeks ago. Its total gross now stands at $55.6 million.
The top ten won't be without a Bible movie for long, though. Darren Aronofsky's Noah opened in Mexico and South Korea this week and earned $14 million between those two countries, which bodes very well for its domestic release on Friday.
Here's some more detail, courtesy of Deadline:
Audiences in Mexico and Korea evidently went more than two-by-two to see the Paramount Pictures and Regency Enterprises epic. It grossed an estimated $14M across those first two markets on 1,135 screens. The film opened No. 1 in Mexico at 635 dates where it is the biggest debut of 2014 at $5.7M. Paramount says it's also "easily the largest opening weekend" for a film toplined by Crowe. In Mexico, Noah earned more than the other top films combined this weekend where Disney's Muppets Most Wanted also bowed, to an estimated $900K. The Noah Mexico debut keeps it on par with Gravity. In Korea, Noah was also No. 1 with $8.3M from 500 screens. There, the film is running 14% ahead of Gravity. In both Mexico and Korea, Noah was released in 2D. It will follow suit in nine other territories: the UK, Australia, New Zealand, France, Spain, Indonesia, Malaysia, Japan and the Philippines. It goes out in 3D in 55 markets and starts its U.S. career on Friday along with 20 other day-and-date territories.
The big surprise this week, though, is that an independent evangelical film called God's Not Dead cracked the top five in North America, and might even end up at #4 when all is said and done. The film, about a professor who bullies his students into disbelieving in God, earned $8.6 million on 780 screens, giving it a per-screen average of $10,979 — easily the third-highest average of the week for a film playing in more than a few theatres (behind only Divergent and The Grand Budapest Hotel).
The film also scored the second-best opening for a film made by and for evangelicals, behind only Courageous, which opened to $9.1 million in 2009.
It will be interesting to see what all of this portends for other upcoming "spiritual" and/or "Christian" films such as Heaven Is for Real (opening April 18), Mom's Night Out (opening May 9) and, um, Left Behind (no release date yet).