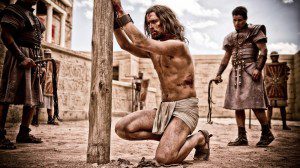 How eager were certain people to make Son of God a box-office hit? Pretty eager, I'd say.
Rick Warren declared, in a video touting one of the "theatre takeovers" that took place Thursday night, that Christians should "skip church and go see" the film on opening weekend, because "it's that important."
And on Saturday, Paul Lauer at Motive Entertainment, a Christian marketing firm, sent out an e-mail telling people:
SON OF GOD amazed Hollywood by grossing over $9.5 million at the box office on Friday, just behind the #1 movie, Non-Stop ($10 million). We're only 5% behind the leader! We can overtake the #1 spot this weekend if we continue to push! . . .

HELP US HONOR GOD on the Sabbath Day (Sunday) by asking everyone you know to see SON OF GOD. After church this weekend, let's take our families to see SON OF GOD instead of going home to watch the Oscars. . . .

FORWARD THIS EMAIL to everyone you know and announce it from your pulpit (wherever your pulpit may be).
Well, sure enough, Son of God was #1 on Sunday… but it was still a few million bucks behind Non-Stop for the weekend as a whole. So, it had to settle for the #2 spot.
But the film still did very well when you consider that it's essentially a big-screen re-run of a TV show that has already been seen by millions of people, and that it has no major stars (nor any minor ones, really, with the possible exception of co-producer Roma Downey, who has worked almost exclusively on television and has never had a big-screen presence to speak of).
In fact, the $25.6 million earned by Son of God is the second-best opening ever for a Bible movie or for a film aimed at a narrowly Christian audience, behind only The Passion of the Christ (which opened on a Wednesday and earned a whopping $125.2 million by the end of its first Sunday in theatres). Prior to this, the previous second-best opening for a Bible movie was the $14.5 million that The Prince of Egypt opened to in 1998, and the previous second-best opening for a specifically Christian movie was the $9.1 million that Courageous opened to in 2011.
The question now is what sort of "legs" Son of God will have. Most films fade at the box office at a fairly steady rate, but word-of-mouth can boost some films, and this particular film could benefit from the fact that Lent is upon us now. With Easter only seven weeks away, the film could show some staying power. But we shall see.
Speaking of The Prince of Egypt, it turns out that that film's producer, Jeffrey Katzenberg, played a part in getting Son of God to the big screen. Deadline reports:
"We thought initially that we would just get a couple of theaters and just show it to friends," said Burnett. "Then we thought we'd do something like Kirk Cameron did." In 2008, the Cameron-starring Fireproof from filmmaker and associate pastor of the Sherwood Church Alex Kendrick took a lot of people by surprise. On a $500,000 budget raised by the church, the faith-based picture ended up grossing $33.4M when it was released by Samuel Goldwyn. "People started saying to us, you know, this is really good. So we decided to send a screener of the movie out to a couple of studios," he said.

Burnett ended up speaking to his friend, DreamWorks' Jeffrey Katzenberg. "He said you don't know anything about this. Why don't you call Tom Sherak? You need to see Tom." Sherak, a longtime/former Fox executive and former President of the Academy of Motion Picture Arts and Sciences was consulting for filmmakers and studios at the time. Since Burnett did not know Sherak, Katzenberg called and made the introductions. "Tom saw the film and said to us, this movie is really, really good, and I think that Fox would be really great for this."
And the rest, as they say, is history.
Incidentally, I'm definitely a numbers guy, so I obviously don't mind looking at box-office figures and the like, but there is something about Christians paying attention to the daily grosses and obsessing over how to get a movie to #1 at the box office — even going so far as to tell pastors to push films from their pulpits and parishioners to skip church for the movie theatre — that irks me a bit.
I am reminded of Owen Gleiberman's review of David Mamet's State and Main, which concerns a movie production company that blows into a small town and upsets everyone's lives: "These Left Coast players may be shallow bastards, but, as State and Main reveals, no one in the 21st century is an entertainment innocent. Even the geezers at the coffee shop know the ins and outs of the box office grosses."
While I know some of my fellow believers will disagree with me on this, I can't help thinking that our sacred spaces should stay a little more "innocent". Movies are good, some of the time at least, but they aren't church. And if someone would rather see Liam Neeson's latest thriller than a Bible film that has had mixed reviews even from some Christians, then they can certainly do so in good conscience.
March 4 update: The Rick Warren video has been taken down and replaced by a slightly shorter video. I have updated the link in the second paragraph.
March 9 update: It just occurred to me that the previous second-best opening for a Bible movie might belong to Year One, a parody of stories from Genesis that opened to $19.6 million in 2009. But that was obviously a very different sort of film.