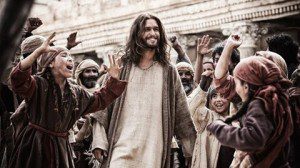 Aside from my interview with Darwin Shaw, which I posted on Monday, I haven't said much about Son of God here for the past couple weeks. But the big-screen Bible spin-off finally came to theatres last night, so it's time to catch up on all the news and reviews, etc.
First, there is my own review of the film for the National Catholic Register, which went online this morning; my friend Steven D. Greydanus, who normally covers film for that paper, likes to say that I reviewed this film so that he doesn't have to.
Then, there are all the other reviews, some of which contributed to the film's current 22% rating on Rotten Tomatoes and 38% rating on Metacritic.
In the days leading up to the film's release, there were quite a few stories about the filmmakers' outreach to different communities, notably Hispanic Americans — for whom the fact that Portuguese actor Diogo Morado might be "the first Latin Jesus in an English film" is apparently a big draw — and Korean Americans.
In addition to Spanish and Korean, the film is being dubbed or subtitled in another "popular language in America" that will be revealed sometime next week.
The film also received an endorsement from Anti-Defamation League national director Abraham Foxman, who was very critical of the allegedly anti-Semitic elements in The Passion of the Christ a decade ago but praised Son of God for putting the story of Jesus "into historical, political and psychological context."
It was also reported yesterday that the film has been picked up by distributors in 60 territories overseas, including "many Asian markets where there are sizeable Christian populations". Latin America will also get the film on Easter weekend in April.
As of Wednesday, the film had sold almost half a million advance tickets, nearly half of which were bought by a single charity. Last night it took in $1.2 million in late-night ticket sales, and the most recent reports have it running neck-and-neck with the Liam Neeson thriller Non-Stop for the box-office crown this weekend. Stay tuned.
March 1 update: Variety has an article that compares the social-media buzz for Son of God and Non-Stop via websites like Facebook, Twitter, YouTube and Google.