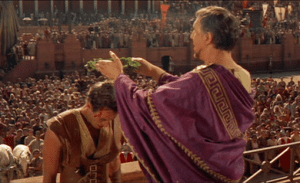 As I mentioned yesterday, Son of God is coming to theatres the same weekend that this year's Oscar ceremony takes place. This got me thinking: with three different Bible movies coming out this year, might we see any of these films represented at next year's Academy Awards?
This, in turn, got me wondering what kind of attention the Bible-movie genre has received from the Academy in the past. We all know about Ben-Hur (1959) and its record-setting 11 awards, but what about all the other Bible epics (and not-so-epics) that have been produced over the years?
So I skimmed through the Academy Award pages at the IMDb as quickly as I could (skipping the foreign, documentary and short-film categories), and came up with the list of nominations below (with the actual wins in bold):
Notice any patterns here?
The first thing that stands out to me is that the Bible movies that do get noticed by the Academy — including such now-obscure titles as The Silver Chalice, The Big Fisherman and The Passover Plot — tend to get nods in "technical" categories like costume design, art direction, cinematography, special effects and music. The movies tend to be nominated because they look good and/or because they sound good.
But only a handful of Bible films have ever been nominated in the "major" categories like picture, directing, writing or acting — said films being Quo Vadis, David and Bathsheba, The Robe, The Ten Commandments, Ben-Hur and The Last Temptation of Christ — and the only film to actually win in any of those categories is Ben-Hur.
Just for fun, I also noted the movies set in the ancient world that had nothing to do with the Bible, just to see how they fared in comparison to the Bible movies, and suffice it to say that relatively few of them got nominations — but, once nominated, they were more likely to win something, including a "major" award or two:
Cleopatra (1934) — 1 win, 5 nominations — cinematography, picture, sound recording, film editing, assistant director
The Egyptian (1954) — 1 nomination — cinematography
Spartacus (1960) — 4 wins, 6 nominations — supporting actor, cinematography, art direction, costume design, film editing, original score
Cleopatra (1963) — 4 wins, 9 nominations — cinematography, art direction, costume design, visual effects, picture, actor, sound, film editing, original score
The Fall of the Roman Empire (1964) — 1 nomination — original score
A Funny Thing Happened on the Way to the Forum (1966) — 1 win, 1 nomination — adapted music
Hercules (1997) — 1 nomination — original song
Titus (1999) — 1 nomination — costume design
Gladiator (2000) — 5 wins, 12 nominations — picture, actor, costume design, sound, visual effects, supporting actor, director, original screenplay, cinematography, film editing, original score, art direction
Troy (2004) — 1 nomination — costume design
Finally, like I say, I wasn't paying much attention to the foreign, documentary or short-film categories as I skimmed the list, but a few titles did jump out at me, three of which I have seen, and two of which I have not (though they sound interesting):
Noah's Ark (1959) — 1 nomination — animated short
The Face of Jesus (1961) — 1 nomination — live-action short
St. Matthew Passion (1966) — 1 nomination — documentary short
Jesus of Montreal (1989) — 1 nomination — foreign language film
Adam and Dog (2011) — 1 nomination — animated short
To that last list we could also possibly add Sister Rose's Passion (2004), which was nominated in the short documentary category. Rather than a Bible movie per se, it concerns a nun who worked on Catholic-Jewish dialogue, and the last several minutes are all about her response to Mel Gibson's film The Passion of the Christ.
And… that's it, I think. If I missed anything, let me know. And in the meantime, feel free to check back here when next year's nominees are announced in January.