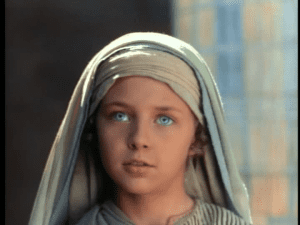 Aside from the fact that he went to Jerusalem with his parents when he was 12, the gospels say almost nothing about Jesus' life between his birth and his baptism at the age of 30 — but that hasn't stopped filmmakers (and novelists, etc.) from trying to fill in the gaps.
The latest attempt comes courtesy of the Lifetime channel, which, according to Deadline, is developing a TV-movie called The One, described as "a coming-of-age story exploring Jesus' early life and formative years as he comes to learn he is the Son of God and is destined for greatness."
The film is being produced by Leslie Greif of Hatfields & McCoys fame, and is based on a script by Frank DeJohn and David Alton Hedges, neither of whom have any IMDb writing credits as far as I can tell — though they apparently won a Nicholl Fellowship in screenwriting last year for a script called Legion.
Deadline says their current project "is expected to stay true to the spirit of Jesus' image as chronicled in The Bible", though who knows what that means, given that the Bible has virtually nothing to say about the period covered by this movie.
Interestingly, Deadline also indicates that another series about the so-called "lost years" of Jesus announced two months ago, produced by horror-movie veterans and focusing on Jesus as an exorcist, may no longer be in development.
The picture above, incidentally, comes from the sequence in which 12-year-old Jesus visits the temple in Franco Zeffirelli's Jesus of Nazareth (1977).