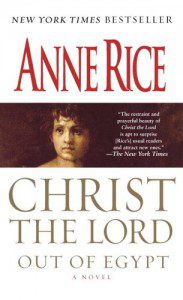 The long-gestating film adaptation of Anne Rice's Christ the Lord: Out of Egypt now has a release date — or at least a release month. It was announced today that FilmDistrict has acquired U.S. distribution rights to the film and plans to release it in March 2015.
The book, which depicts the return of Jesus and his extended family to Galilee when Jesus is a young boy, was originally going to be adapted by a brand-new Christian company that said it was in the business of making "Spiritainment" — but those plans fell apart in 2007.
Then, in 2011, Harry Potter director Chris Columbus bought the rights to the book and hired Cyrus Nowrasteh, director of The Stoning of Soraya M. (2008), to co-write and direct the film.
Rice intended the book to be part of a four-part series on the life of Christ, written in the first person from his perspective, but so far, there has been only one sequel: Christ the Lord: Road to Cana, which came out in 2008.
In 2010, Rice famously renounced Christianity but without renouncing Christ himself, stating that "following Christ does not mean following His followers." If she continues her four-book series, it will be interesting to see how this development affects her portrayal of the relationship between Jesus and his earliest followers.