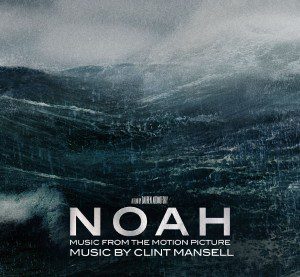 I don't know about you, but I've been listening to Clint Mansell's soundtrack for Darren Aronofsky's Noah quite a bit since it came out last week. Intimate at times, big and bombastic at other times, it captures the emotional journey of the film rather well. Now Paramount has released a "featurette" on the soundtrack — more of an ad for it, really — and a few websites have posted interviews with Mansell and with Patti Smith, who wrote the film's theme song 'Mercy Is'. Plus we now have a music video of sorts with quotes about the film from church leaders and Christian film critics, all set to a praise-and-worship song. Check it all out below the jump.
First, the "featurette" on Mansell's score, via FirstShowing.net:
Sarah Myles at We Got This Covered has an interview with Mansell, who has scored all six of Aronofsky's feature films to date. A sample quote:
"I read the first script for Noah, like, the best part of 10 years ago, or something. It was a long time ago. We haven't been working on it that long but it's been around for, like, four years. So, some of the music in the film was some of the first things I wrote, you know, there's a track called 'Build Thee An Ark' ['Make Thee An Ark' – Track 7 on the Noah soundtrack] that was actually the first piece of music I wrote for the film, way back when. He used it for animatic presentations to the studio. It was a very rough demo for him, but it just gave a bit of life to these computerized images – trying to help show certain things. So, I get involved in Darren's films early. They should give you time for these things – it's not like 'oh I've got 6 weeks here I can write you a score and then I'm moving onto another one for 6 weeks'. All you're going to get is just 6 weeks of bull… It takes a long time to find the right music for a film that isn't just some music off the shelf. I hate all that stuff."
Mansell also talks about his first collaboration with the Kronos Quartet, on the score for Aronofsky's Requiem for a Dream (2000) — they also collaborated on The Fountain (2006) — and about working with Patti Smith on 'Mercy Is'.
The Wall Street Journal's Speakeasy blog also has an interview with Mansell:
Speaking by phone from Los Angeles, Mansell said his compositions rise from the vast scope of the story's premise – he saw an early draft of Aronofsky's script – but also from Noah's agony as he gropes toward an understanding of the mammoth task God has given him.

"To me, the magnitude of what Noah has to do, and his contemplation of what he has to do, is terrifying for him. He's isolated," said Mansell. "I thought that's where the music may lie."

He said, "Even though it sits on a grand scale, (the film) is like Darren's other projects: It's a protagonist dealing with his demons, if you will, and his issues." . . .

Mansell's orchestral music for "Noah" avoids the by-now overly familiar attempts to invoke authentic period sounds for historical movie scores.

"The film has its own unique geography," Mansell said, pointing out that principal photography took place in Iceland. "The idea was that it could be set 5,000 years ago or 5,000 years in the future."

Out of the orchestra's power and grandeur rises the rattle of a santoor, a stringed instrument native to ancient India; thus, Mansell bypassed similar instruments from the region in what's now known as Turkey where Noah's ark is said to have settled when the floodwaters receded. Mansell pointed out that the mandocello, another featured instrument, is a 20th century invention. He plays the Mellotron, Moog synthesizer and bass guitar in the score.

Mansell said he struggled to settle on the right approach to the music of "Noah."

"It was a long journey for me to find the style and instrumentation, a long period of gestation," he added. "There's a lot to be gleaned from the subtext of the film and what's being said outside the narrative. It's a harsh story, to a degree. When you're in the grip of nature, it's terrifying."
Last week, Emma Watson (who plays Noah's adopted daughter-in-law in the film) also tweeted a copy of the interview with Mansell that she did for Wonderland magazine:
From @wonderlandmag's #Noah section; my interview with composer @iamclintmansell (film soundtrack out now on iTunes!) pic.twitter.com/MlsdjpEIEH

— Emma Watson (@EmWatson) March 25, 2014
In related news, The Guardian has a video interview with Patti Smith, who talks about how "terrible" and "brutal" the story of Noah is, and how she feels now about singing "Jesus died for somebody's sins but not mine" back in 1975.
And finally, GodTube (yes, that's a real website) has a new "music video" for the film aimed at prospective Christian moviegoers. It pulls together the Kim Walker-Smith song that was used in the church-conference trailers last summer, many of the quotes that were used in an earlier church-leader video, and a bunch of still photos (some of which were used in an earlier music video based on the Patti Smith song):
Check out earlier videos and my shot-by-shot trailer analyses here: