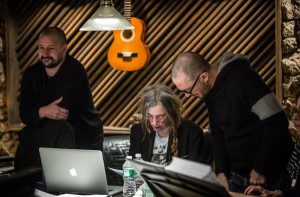 Rolling Stone has just posted an interview with Noah director Darren Aronofsky, and one of the more surprising bits of news in there — for me, at least — is the fact that Patti Smith, the "godmother of punk", wrote a lullaby for the film, which Russell Crowe's Noah sings to the Emma Watson character (and perhaps also to the younger version of her character?):
I've been friends with Patti for a long time, and I needed a lullaby for the movie because it's a big part of the story. I was telling Patti about my struggles, and it turns out she's studied lullabies and writes a lot of them. She was like, "Can I please write it for you?" And I said, "You're asking me that question?" [Laughs] I said "absolutely" with as much of a poker face as possible. She wrote this incredible lullaby that Russell Crowe sings to Emma Watson in the movie. It's really touching and beautiful.
Aronofsky also comments on the fact that this film has an edgier tone — but also takes more of a fantasy approach — than most other Bible movies:
When you do the story of Noah, you definitely need a big canvas. It's one of the greatest stories ever told, and it's one people that have been telling around the entire world since before recorded history. But when we first started working on the project, we were very clear not to have sandals and robes and long white beards. The first thing I said to Russell Crowe was, "I'll never shoot you on a houseboat with two giraffes standing behind you." I think the Noah story has become a story for children, but it's actually the first apocalypse story. It's a very, very dark story. And it takes place at a time before the world had rainbows! A time when everything was miraculous. That allowed us to imagine big.

For me, the pre-diluvian world has many fantastical elements. The Bible talks about these creatures called the nephilim, which were these giant angels that walked on the Earth during the time of Noah's life. It also talked about this giant beast, the Leviathan, that lived on Earth. And we're only ten generations from the Garden of Eden. It was a very magical, spiritual world – as different as, say, Middle-earth. We created this Biblical fantasy world and we wanted to make it like no world we'd seen before. The scope of the effects, in bringing this world to life, required that we work on a big scale.
Commmenting on the fact that some people might find the film controversial, he adds:
We tried to remain truthful to the themes and the ideas that are written, but to create a dramatic story for a 21st-century audience. I think people who are believers will see the ideas and the values that they're looking for represented in the film, and I think people who are non-believers, or come from different traditions, are going to be excited because it's not your grandmother's bible. It's something new, something big and something different.
There's more to the interview, including a hint at what the "theme" of the movie — and its depiction of Noah as a character — might be all about. Check it out.
Update: Darren Aronofsky just tweeted the following picture of himself with Smith and the other musicians. Note how he mentions that the song is called 'Mercy Is', which hints strongly at one part of the dual theme of justice and mercy that I noted a few months ago in my comments on an early draft of the screenplay:
with patti smith, @kronosquartet, @iamclintmansell recording the title song for #noah, "mercy is": pic.twitter.com/4zwdRXoUhf

— darren aronofsky (@DarrenAronofsky) February 10, 2014
Upperdate: I'm beginning to wonder, was Smith's involvement with this film a big secret until now, or did I somehow hear about it and then forget it somehow?
Emma Watson has now told Wonderland magazine that Smith "was very present and around on the set, too," and it turns out Russell Crowe actually brought Smith on stage during a concert he put on while they were shooting the film in Iceland — way, way back in August 2012. A video of their duet was even posted to YouTube:
But note how Crowe says his surprise guest just "happens to be visiting Iceland at the same time." And the article at that last link states: "Smith is currently touring the country, while Crowe is in Reykjavik to film his new movie Noah." So there was no hint whatsoever that Smith might have been working on the film too.
March 11 update: Emma Watson just tweeted this interview she did with Patti Smith for Wonderland magazine. It has some interesting comments about the "signs" that Watson saw while making the film, and the ideas that informed the lullaby.
From @wonderlandmag's #Noah section; my interview with Patti Smith pic.twitter.com/BvVErKI77H

— Emma Watson (@EmWatson) March 11, 2014
March 15 update: 'Mercy Is' premiered today on BBC Radio 6.
March 24 update: A possibly unauthorized music video, featuring lots of photos I haven't seen before, has been posted on YouTube:
April 8 update: Patti Smith sang the song in an interview with The Daily Telegraph:
Smith also did an interview with The Guardian last week in which she talked about how "terrible" and "brutal" the story of Noah is, and how she feels now about singing "Jesus died for somebody's sins but not mine" back in 1975.
Also, asked by Classic Rock about the fact that a Catholic website called her a "Christian Artist", Smith replied: "Maybe they had me confused with someone else, but I wouldn't deny being Christian. I was raised a Christian, I follow the teachings of Christ. So, you know, I have no problem with that title."
October 9 update: Smith has now started campaigning for an Oscar.