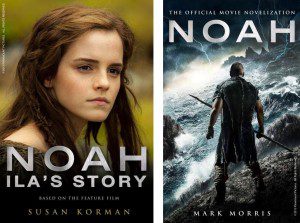 This information has been out there for a few weeks now, but it somehow didn't catch my eye until today: Two novelizations of Darren Aronofsky's Noah are coming out March 18, ten days before the film's North American release.
For adults, there is Noah: The Official Movie Novelization, written by Mark Morris, a British horror novelist who has also written several Doctor Who books and audio plays; and for readers aged 12 and up, there is Noah: Ila's Story, written by Susan Korman, an American children's author and freelance editor.
No back-cover copy or plot synopses are available for these titles yet, as far as I can tell; instead, the blurbs that accompany these books merely state the obvious, noting that these books are based on a film that is, in turn, based on the Bible.
But the latter title is particularly interesting. For one thing, it demonstrates that the studio wants to tap into the youth market by putting Harry Potter co-star Emma Watson front-and-centre in its merchandising. More importantly, it also hints that the character Ila may be playing a fairly central role within the film itself.
As it happens, these books will hit the shelves the same day that the graphic novel comes out. So there'll be quite a bit of reading material to wade through in the week and a half before the film's release, for Noah fans who don't mind spoilers.