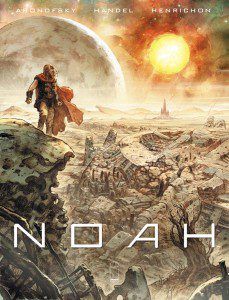 The release of Noah is 75 days away… so here's something quasi-related to the film that I haven't mentioned here yet: Image Comics is going to publish an English version of the Noah graphic novel that Darren Aronofsky co-wrote while he was developing the screenplay a few years ago.
At least part of the graphic novel has been published in France already, and in the past I have posted images from the graphic novel that happen to depict the six-armed fallen angels known as the Watchers and the link between Eve eating the forbidden fruit in the Garden of Eden and Cain killing Abel.
I posted those images because they seemed to indicate what sorts of things we might find in Aronofsky's movie. But in the Image Comics press release, Aronofsky himself cautions against expecting the comic to be all that similar to the movie, and he suggests that a fair bit of the comic might reflect the creative input of artist Niko Henrichon rather than any of the people who went on to work on the film:

"It has been a great thrill to see an artist of Niko's caliber interpret the Noah screenplay through his own vision," said Aronofsky. "The results are lavish. This take on the story is from the original screenplay Ari [Handel] and I wrote, before we began the long process of shaping the story for the big screen. So it is a slightly different take on the material. This book, not merely a movie companion piece, will hopefully give readers a rare insight into the creative process."
The graphic novel comes to bookstores March 18, which is ten days before the movie comes out, so fans will have about a week and a half to let the graphic novel whet their appetites before they start comparing the book and movie side-by-side.
Incidentally, a few days ago Aronofsky tweeted a picture which he described as the "closing image" from the European editions of the graphic novel:
niko henrichon closing image of #noahcomic for european editions, tattoo anyone?: pic.twitter.com/SjuBorEuH9

— darren aronofsky (@DarrenAronofsky) January 9, 2014
Given all the differences between the North American and European trailers for the film, I can only wonder what the closing image from the North American edition of the graphic novel will be. As ever, we shall see, but consider my curiosity piqued, for now.