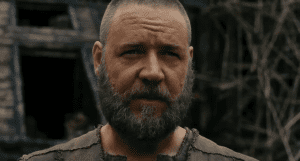 I'm a little under the weather this morning so I won't do a news round-up, but I did want to post a few new videos that have popped up in the last few days — including a full-fledged clip from the film, albeit a very brief one. As ever, you can check 'em all out below the jump.
First, here is the new clip. It consists of only four shots, all of which we have seen at least portions of before, but now you get to see how they fit together within the actual film (and you get to the hear the actual music that was written for this scene):
Second, for some reason Paramount's overseas branch has posted a 2-minute version of the Ark featurette that was previously posted in a 4-minute version:
Third, the Harry Potter fansite Snitchseeker posted two new videos that focus on Emma Watson, who plays Noah's daughter-in-law Ila in the film.
The first video consists of interview clips, in which Watson talks about making the transition from girl to woman, and in which she describes Ila's relationship with Shem thusly: "They're kind of the light of the story, in many ways. It's a very dark story, and this love story that they have and what they share and what they're prepared to sacrifice for each other is a really beautiful part of the story, I think."
Snitchseeker also posted this collection of B-roll footage, some of which is kind of spoiler-ish:
Finally, my friends at the Damaris Trust in England have posted a community resource kit that includes two videos — 'The World in Our Care?' and 'Cleansing or Consuming?' — that feature bits of new footage that we haven't seen before:
The Damaris Trust will apparently be adding to the collection soon with two more videos that currently bear the titles 'Courage' and 'Hope'.
Check out my earlier shot-by-shot trailer analyses here: