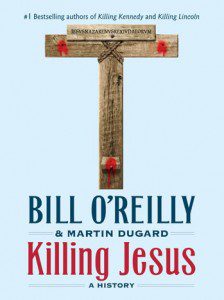 Remember Bill O'Reilly's Killing Jesus?
Last year, the National Geographic Channel teamed up with Ridley Scott's production company to turn O'Reilly's book into a TV-movie, just as they had done with his earlier books Killing Lincoln and Killing Kennedy: The End of Camelot.
Now comes word that they're going to make their third project a little longer, and turn it into a four-hour mini-series that will begin production this summer and premiere sometime in 2015.
Hmm. You don't suppose the enormous success of the mini-series The Bible last year — which led to this year's Son of God on the big screen and next year's A.D. on the NBC network — had anything to do with Killing Jesus getting more airtime, do you?
Meanwhile, a very different sort of TV show is set to premiere this year. The Hollywood Reporter says Aaron McGruder, creator of the animated comedy The Boondocks (2005-2010), is working on a live-action series called Black Jesus for the Adult Swim network, and the trade paper describes the premise thusly:

The new half-hour live-action scripted comedy finds Jesus living in present-day Compton, Calif., on a daily mission to spread love and kindness throughout the neighborhood with the help of his small but loyal group of downtrodden followers.
Deadline notes that this series is already in production, but the network had been keeping it fairly quiet until now, "possibly because of its subject matter".
This wouldn't be the first production to revolve around a Jesus figure of African descent.
On a symbolic or metaphorical level, films like Black Jesus (1968) and Son of Man (2006) have either retold the story of Jesus in a modern African setting or portrayed modern African political prisoners as Christ-figures of a sort.
The American film Color of the Cross (2006) went even further and depicted the historical Jesus himself, and members of his family, as "black Jews".
I've never seen The Boondocks, so I have no idea what sort of humour to expect from this new show. But I do think "spreading love and kindness" is an… incomplete… description of what the biblical Jesus and his followers were all about.