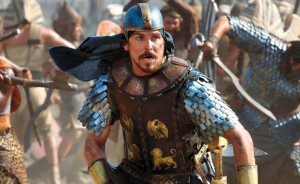 Heads up, anyone who's interested in Ridley Scott's Exodus: Gods and Kings: a trailer for the upcoming Moses movie exists, and it has been seen by foreign theatre owners meeting this week at CineEurope 2014 in Barcelona.
Not only that, but the exhibitors in question also got to see "the opening reel of the biblical epic," according to The Hollywood Reporter. I'm not sure what an "opening reel" is supposed to mean in this day and age — Exodus was shot with digital 3D cameras, and most theatres showing the film will get it on a hard drive rather than as several reels of celluloid — but it sounds substantial, at any rate.
No other details are available yet, but presumably this means it won't be long before the general public gets to see the trailer, too. If any more information from the CineEurope presentation becomes available, I will post it below.
The actual film is due to come out in just under six months, on December 12.