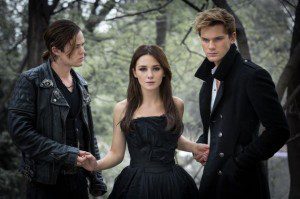 Time to dust off a few news items that I've had sitting in my files for a while now.
1. The producers of Fallen have released the photo to the right, which shows a teenaged girl named Lucinda "Luce" Price (played by Addison Timlin) standing between two fallen angels who have been competing for her love for centuries (Harrison Gilbertson and Jeremy Irvine). That's right, it's basically Twilight with angels (and demons) instead of vampires and werewolves. It's based on a best-selling series of books by Lauren Kate.
2. Patrick Tatopoulos — a production designer whose name inspired a running gag in the 1998 version of Godzilla — has been tapped to direct New Babylon, "which is set in the Middle East in the near future when a war between angels and demons leads up to the building of a modern day Tower of Babel." This would be the second feature film that Tatopoulos has directed, following Underworld: Rise of the Lycans. One of the producers on New Babylon will be Maleficent director Robert Stromberg.
3. It still boggles my mind that anyone would want to make a follow-up to Legion, one of the lamest supernatural action flicks I've seen in years, but here it is, a trailer for Dominion, a war-between-humans-and-angels Syfy series that premieres on June 19 (incidentally, the star of this series is Christopher Egan, who previously played a modern-day version of the biblical David in the short-lived series Kings):
Here are a couple of earlier promos:
And here are some featurettes:
Make of all that what you will.