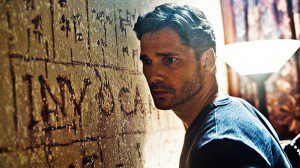 From the controversy surrounding Alone Yet Not Alone in January to the release of Moms' Night Out in May, there's been a lot of talk this year about "faith-based" movies, a genre that apparently covers everything from low-budget Christian propaganda to big-budget Bible movies with a distinctly Jewish sensibility. Curiously, though, one of the most faith-oriented films of the year came out this past week, and no one thought to group it in with the rest.
Well, perhaps it's not that curious. Deliver Us from Evil, based on a book by retired NYPD sergeant Ralph Sarchie and directed by horror-movie expert Scott Derrickson, may have been made by openly Christian people — see this featurette on Sarchie and my 2005 interview with Derrickon for more on that — but the film is rated R, and it earns that rating with lots of four-letter words and disturbing images. So for those who are inclined to think that "faith-based" films are synonymous with "family" films and the like, there was never any question of putting this film in that category.
In any case, Deliver Us from Evil was one of three new films that opened in wide release this weekend — and the release date might have hurt the film, since one does not ordinarily associate horror films with the Fourth of July. The film grossed only $9.7 million for the three-day weekend and $15.3 million for the five days going back to its opening on Wednesday. That's the lowest opening ever for one of Derrickson's films, and the three-day figure is the lowest three-day opening for any wide release produced by Jerry Bruckheimer since Top Gun opened way, way back in 1986.
But pretty much all films performed below expectations this weekend compared to previous Fourth of July weekends. The #1 movie, Transformers: Age of Extinction, earned $37.1 million, which is the lowest that any film has earned in the #1 spot on a Fourth of July weekend since Cats & Dogs came out in 2001. And the #2 movie, Tammy, scored one of the lowest openings for a Melissa McCarthy film since Bridesmaids made her a household name (or at least somewhat bankable).
Another film that kind of, sort of, maybe but not really fits in the "faith-based" category is America, Dinesh D'Souza's follow-up to his documentary 2016: Obama's America. As far as I can tell, the new film is all about politics, not religion, but D'Souza did promote it to churches, and he even hired someone to write a movie-themed sermon that pastors could download and read from their pulpits.
While the earlier documentary earned $6.5 million in its first weekend in wide release and stayed in the top ten for three weeks — grossing $33.4 million overall and becoming the second-highest-grossing political documentary ever — the new film opened to $2.7 million and landed just outside the top ten, at #11.
In other news…
Box Office Mojo has finally updated its page for Alone Yet Not Alone, which had apparently earned $887,851 in total as of last Wednesday. No word yet on what the film has earned since then, but it is apparently still playing in one theatre.
Box Office Mojo has no updates for Noah since last week, though I'd be surprised if the film had left Japan this quickly. (It opened there three weeks ago.)
Heaven Is for Real earned $191,964 in its twelfth week, landing it in the #27 spot and raising its domestic total to $90.5 million. It has earned another $4.3 million overseas for a worldwide total of $94.9 million.
Moms' Night Out earned $51,157 in its ninth week, landing it in the #40 spot and raising its domestic total to $10.4 million. It has earned another $52,112 in Australia but does not appear to have been released in any other countries overseas.
And God's Not Dead earned $36,204 in its sixteenth week, landing it in the #43 spot and raising its domestic total to $60.7 million. It has earned another $1.8 million overseas for a worldwide total of $62.5 million.