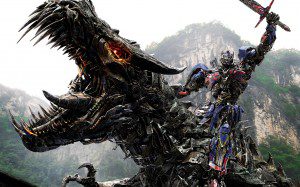 Life was too busy to post a box-office update last week, but that's okay, I think, since not a lot was happening then.
The big story this week is that Transformers: Age of Extinction supposedly became the first film of the year to gross over $100 million in a single weekend (in North America, that is) — but that figure was quickly disputed by rival studios, who said the film actually came in just a tiny bit beneath that amount. Whatever. It was still pretty huge.
A recurring theme this year has been a tendency on the part of some people to dismiss the box-office performances of films that, when compared to other films made by the same people, didn't actually do all that badly, at least in their first few weeks.
Last week, for example, Jersey Boys opened to $13.3 million and was widely perceived as a box-office disappointment even though it had the fourth-best opening of any film directed by Clint Eastwood — and Eastwood doesn't even act in the movie. (It was Eastwood's fifth-best opening if you count his acting-only gig in In the Line of Fire, and his sixth-best if you also count the first weekend that Gran Torino went into wide release rather than its first weekend in limited release.)
Similarly, some pundits have written off the sci-fi time-loop movie Edge of Tomorrow — and it's true that that film, now in its fourth week, currently ranks something like 20th among Tom Cruise's 38 films in North America. But overseas, the film currently ranks 7th among Cruise's films — behind all four Mission: Impossibles, War of the Worlds and The Last Samurai — and it ranks 10th among his films worldwide, behind those six films plus Minority Report, Rain Man and Top Gun.
On the "faith-based" front, the most significant action these last two weeks has been the ongoing box-office performance of
Noah
in Japan and the Philippines, where it is now in its third week. The film has earned about $8.7 million between those two countries so far, thereby raising its foreign total to $258 million. The film left North American theatres two weeks ago after earning $101.2 million on this continent, so that gives the film a worldwide total so far of $359.2 million.
Also, there is some question as to how much the once-ballyhooed Alone Yet Not Alone may have made since opening two weeks ago. Box Office Mojo has no figures for that film at all beyond its rather small first weekend. But the film still seems to be playing in about 18 theatres scattered across the United States.
In other news…
Heaven Is for Real earned $236,591 in its eleventh week, landing it in the #24 spot and raising its domestic total to $90.2 million. It has earned another $3.5 million overseas for a worldwide total of $93.7 million.
Moms' Night Out earned $83,745 in its eighth week, landing it in the #34 spot and raising its domestic total to $10.3 million. It has earned another $52,112 in Australia but does not appear to have been released in any other countries overseas.
And God's Not Dead earned $60,010 in its fifteenth week, landing it in the #40 spot and raising its domestic total to $60.6 million. It has earned another $1.6 million overseas for a worldwide total of $62.2 million.