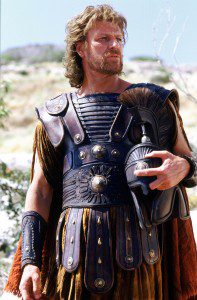 It took the mythical Odysseus ten years to get home from the Trojan War — twenty if you start counting from the day he left his wife and son behind in Ithaca — and the way things are going, it just might take that long for Warner Brothers to get its long-in-development movie about Odysseus off the ground, too.
Still, at least the studio hasn't given up on the idea. Deadline reports that the project is still in development, and that Warner has hired a Russian filmmaker named Fedor Bondarchuk, who recently directed the 3D IMAX movie Stalingrad, to direct their adaptation of Homer's Odyssey from a script by Jeremy Doner.
The film was first announced five years ago when Warner bought a spec script by Ann Peacock, a screenwriter whose credits include an early draft of The Lion, the Witch and the Wardrobe. The director attached to the project back then — when it was billed as "a bloody relentless revenge movie" — was Jonathan Liebesman, whose credits include Wrath of the Titans and Battle: Los Angeles.
Now, however, the studio is turning to Bondarchuk, partly because he is something of a star in Russia and China, "two territories studios are eager to court," as Deadline puts it. So this is the world we live in: an American studio and an Italian producer (Gianni Nunnari) hire a Russian director to adapt a Greek myth, in the hopes that it will sell lots of tickets in China. Truly, this is the age of global filmmaking.
This is not the only Odysseus-themed film that Warner has been working on for the past several years. Last year, they hired a new writer for a futuristic, outer-space adaptation of The Odyssey that they have been working on since 2008.
Bondarchuk is also not the only Russian filmmaker to be tackling a Greco-Roman epic right now. Timur Bekmambetov — who is technically Kazakh, but got his start in Russian film — is currently developing the newest version of Ben-Hur.
Incidentally, Sean Bean is not involved in either of the Odysseus films in any way, at least as far as I know. But he did do a good job playing the character in Wolfgang Petersen's Troy, and I had to illustrate this post with something.