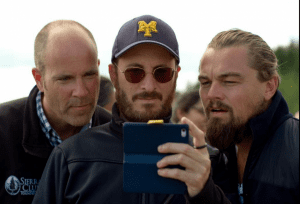 Darren Aronofsky came to Canada last week, along with Leonardo DiCaprio and Sierra Club director Michael Brune, to check out the Athabasca oil sands, a.k.a. the Alberta tar sands. Afterwards he gave a few interviews in which he discussed the environment and how he has dealt with that theme in his work. Among other things, he revealed — for the first time, to my knowledge — that the look of Noah was partly inspired by the tar sands.
In the Vancouver Observer, he said:
"When we first started Noah, we noticed that in the original story of Genesis there were environmental ideas in there…God wanted to destroy the world because man filled it with violence," he said.

"Just like today?" the reporter offered.

"There's an interesting connection to what's happening now," Aronofsky said. "My team started to research the most polluted places on planet earth to see what the connection is between Noah's world and our world. My partner is from BC and she said, 'Have you heard of tar sands?'"

"The images coming out of the tar sands were so intense. I wanted to go and have a look at it."
He also repeated a theme he has explored before, regarding the "conflict" he sees between "dominion" and "stewardship" in the first two chapters of Genesis — a conflict embodied in his film by the conflict between Tubal-Cain and Noah:
"With Adam and Eve – there are two messages. God says we are the stewards of the earth, and on the other hand, He says we have dominion over it. That's a conflict that's been going on between environmentalists and the industrialists for a long time now.

"What I've concluded is that we're supposed to have a balance. We're supposed to have responsibility to the earth. But companies in the tar sands have no strategy of how to clean it up or do it sustainably – it's really out of control."
And in the Earth Island Journal, he said:
Tell me about your trip to Alberta.

The whole idea of the trip started maybe two, three years ago when I was researching Noah. While looking at the story of Noah we realized that in Scripture there was this big environmental message about how man had destroyed the world, and that part of the reason for the destruction of the world was because of not taking care of creation. So when we started researching, we started looking at the modern day and looking for places that were the worst polluted places on the planet. My partner is actually from British Columbia and she started telling me about the tar sands and they became a big influence on the visual look of the prediluvian world.

At the same time I'd just met Michael Brune [executive director] at the Sierra Club. I was talking to Michael about possibly shooting out there. We talked about taking a trip up there. It didn't happen during the making of [Noah]. But we decided to go up there and have a look at what was going on. And I sent an email out to Leo, Leonardo DiCaprio, who was up there, and asked him if he wanted to join the trip because it looked like an exciting trip. And he jumped on. So it was basically the three of us. Michael had a woman named Jody from the Sierra Club and Leo had the head of his foundation, Justin, with him. So all of us went up there to check it out. We just got back [on August 24]. . . .

How will you use these experiences in your filmmaking?

Well, I think we already used the tar sands in Noah, because part of the story of Noah is that we have a responsibility to creation, and if we aren't responsible for creation then our worth is questioned. That was the kind of message I found in Genesis and that was the story we expanded out of it. But I think as a filmmaker it's really important to be connected to as much of what's going on Planet Earth as possible so the stories can be informed by what people are dealing with around the planet.
Interestingly, given the "animal rights" subtext to Noah, Aronofsky and DiCaprio received gifts of moccasins made from bear hide during a meeting with representatives of the Athabasca Chipewyan First Nation:
The highlight came when Simpson got to present [DiCaprio] and Aronofsky with a gift of the moccasins she makes from bear hide. "After I presented [DiCaprio] with the moccasins, I told them what they were made of. Then I said I need a hug. He just grabbed me and he hugged me. Now, I'm walking on air. I'm not going to wash my shirt. I wish I was young again," she added with a girlish laugh. She said they were smelling the hide on the moccasins.
It would be interesting to hear what Aronofsky thought of that.
September 19 update: Aronofsky has now posted a journal of his visit to the tar sands at The Daily Beast. He doesn't mention the moccasins.