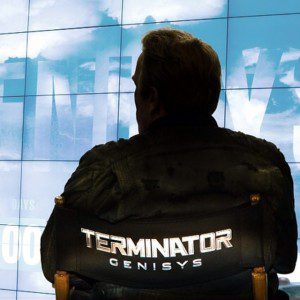 Two quick Terminator updates.
First: for a while now, word around the campfire has been that the new Terminator movie will be called Terminator: Genesis, in keeping with the franchise's penchant for quasi-biblical titles such as Terminator 2: Judgment Day and Terminator Salvation.
Well, a photo posted by Arnold Schwarzenegger on his Facebook page today sort of confirms this rumour, but with a twist: instead of "Genesis", the word used in the movie's working title is "Genisys". For some reason this reminds me of how the company responsible for the simian flu in the last two Planet of the Apes movies was called Gen Sys. Does it refer to Cyberdyne's successor, perhaps?
Second, Deadline reported a few weeks ago that Douglas Smith has joined the cast of the film in an unspecified role. Interestingly, Smith played the son of Bill Paxton on the HBO series Big Love — and Paxton, of course, was one of the first people killed by Schwarzenegger in the original Terminator back in 1984. Coincidence…?