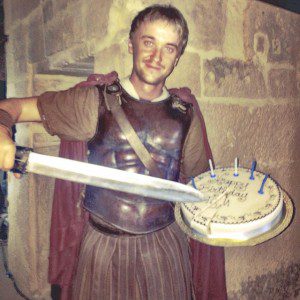 Clavius, the movie about a Roman who investigates reports of Jesus' resurrection, is shooting in Malta right now — but the film will be moving to Spain soon. Euro Weekly News says casting for extras began today in Almeria — and many of the people lining up already had experience working on Exodus: Gods and Kings.
Meanwhile, Tom Felton — the Harry Potter veteran who appears to be playing a soldier named Lucius in this film — has posted more behind-the-scenes photos to his Instagram account, including the picture to the right from his 27th birthday, which happened last Monday.
Click below the jump for more.