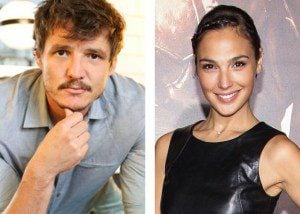 Timur Bekmambetov's upcoming remake of Ben-Hur may be different from the 1959 version in a number of ways, but in one way it will be remarkably similar: it will feature an Israeli beauty-contest winner as Esther, the Jewish slave girl that Judah Ben-Hur falls in love with.
In 1959, the part was played by Haya Harareet, who won one of the first beauty contests in Israel after that nation came into being in 1948; and now, according to The Hollywood Reporter, the part will be played by former Miss Israel Gal Gadot.
The interesting thing about this is that Gadot has made a name for herself lately as an action movie star. She got her start on the big screen doing her own stunts in the last three Fast & Furious films, and she was recently cast as the superhero Wonder Woman in Batman V Superman: Dawn of Justice and its various spin-offs.
It's been a while since I read the original novel, but I think it's safe to say that nothing about Gadot's Ben-Hur character will require her to flex those muscles… unless they've given the story an even bigger rewrite than we thought! (Well, Bekmambetov is the guy who directed Abraham Lincoln: Vampire Hunter, so who knows?)
Meanwhile, Deadline reports that Game of Thrones co-star Pedro Pascal is in talks to play Pontius Pilate. (Did having the initials P.P. help him snag the part?)
Pilate wasn't a particularly major character in the 1959 film, but Deadline says he "plays a significant role in this version of Ben-Hur, which hews closer to the 1880 Lew Wallace novel and its parallel storyline [about] Jesus Christ".
Pascal, incidentally, was born in Chile but grew up in the United States.
Here's a video tribute to Harareet that someone posted to YouTube last year:
And here's the scene from the 1959 film in which Judah Ben-Hur meets Pontius Pilate for the first time (the meeting takes place after the 2:30 mark):
October 16 update: I have revised and simplified the opening paragraphs of this post, which originally tried too hard to shoehorn in a reference to Israeli actress Elana Eden and her role as the (non-Israelite!) protagonist in The Story of Ruth.