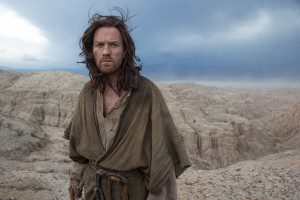 Back in February, there were reports that Ewan McGregor was going to play a holy man and a demon in a film called Last Days in the Desert, directed by Rodrigo Garcia (Albert Nobbs) with Emmanuel Lubezki (Tree of Life, Gravity, Birdman) handling the cinematography.
Today, the Sundance Film Festival announced that it will host the film's premiere next month — and it also revealed that McGregor isn't playing just any old holy man or demon:

Last Days in the Desert / U.S.A. (Director and screenwriter: Rodrigo Garcia) — Ewan McGregor is Jesus — and the Devil — in an imagined chapter from his 40 days of fasting and praying in the desert. On his way out of the wilderness, Jesus struggles with the Devil over the fate of a family in crisis, setting himself up for a dramatic test. Cast: Ewan McGregor, Ciarán Hinds, Ayelet Zurer, Tye Sheridan.
Will this be a first-century family in crisis? Or is Garcia going to mix the ancient and the modern the way, say, Luis Buñuel did at the end of Simon of the Desert?
Other films with a faith theme that sound interesting:
Don Verdean / U.S.A. (Director: Jared Hess, Screenwriters: Jared Hess, Jerusha Hess) — Biblical archaeologist Don Verdean is hired by a local church pastor to find faith-promoting relics in the Holy Land. But after a fruitless expedition he is forced to get creative in this comedy of faith and fraud. Cast: Sam Rockwell, Jemaine Clement, Amy Ryan, Danny McBride, Leslie Bibb, Will Forte.

I Am Michael / U.S.A. (Director: Justin Kelly, Screenwriters: Justin Kelly, Stacey Miller) — The controversial true story of a gay activist who rejects his homosexuality and becomes a Christian pastor. Cast: James Franco, Zachary Quinto, Emma Roberts.

Going Clear: Scientology and the Prison of Belief / U.S.A. (Director: Alex Gibney) — Going Clear intimately profiles eight former members of the Church of Scientology, shining a light on how they attract true believers and the things they do in the name of religion.

Prophet's Prey / U.S.A. (Director: Amy Berg) — When Warren Jeffs rose to prophet of the Fundamentalist Church of Jesus Christ of Latter Day Saints, he bridged the gap between sister wives and ecclesiastically justified rape, befuddling the moral compass of his entire congregation.
The festival will take place in Utah between January 22 and February 1.