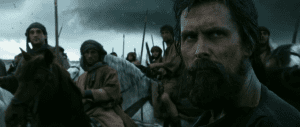 It doesn't open in North America for another five days, but Exodus: Gods and Kings has been playing overseas for a few days now, and so far it seems to be off to a fairly healthy start for a Ridley Scott film — but it may not be doing as well as the other big Bible movie of the year, i.e. Darren Aronofsky's Noah.
The Wrap reports:
Ridley Scott's "Exodus: Gods and Kings" rolled up $23 million overseas this weekend, one week ahead of its North American debut.

Fox opened the Biblical epic starring Christian Bale in 6,462 theaters in 10 foreign markets and it connected.

Its $6.2 million opening in South Korea was the biggest ever for a Ridley Scott-directed film. In Mexico, its $4.7 million opening was 41 percent bigger than that of "Prometheus." And in Spain, its $3.7 million debut topped that of "Noah" by 43 percent, Fox said.
For comparison's sake, Noah also opened overseas a week before it opened in North America, and it made $14 million in its first weekend abroad — though that was based on just two territories, i.e. Mexico ($5.7 million) and South Korea ($8.3 million).
Noah was also released in 2D in those countries, whereas I suspect Exodus: Gods and Kings was released in 3D, and thus should've benefited from higher ticket prices.
The fact that Exodus did better than Noah in Spain could, of course, be due to the fact that Exodus was filmed there and features some high-profile Spanish talent, such as actress Maria Valverde (who plays Moses' wife) and composer Alberto Iglesias.
It will be interesting to see how the North American opening for Exodus compares to the equivalent opening for Noah next week. Noah opened to $43.7 million in March, and only 15 films have had openings that big in December, most of which were sequels or remakes. And only three Ridley Scott movies have opened at that level or higher, including two sequels (Hannibal and Prometheus) and American Gangster.
Update: Deadline adds the detail that Exodus "opened three times bigger than Noah" in Hong Kong and 38% bigger than Noah in Thailand, according to the studio.