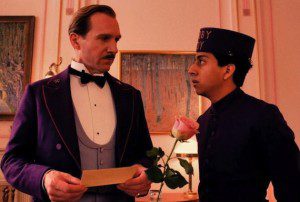 It is extremely rare for a film to win Best Picture without also being nominated for its director, its film editing, and its screenplay. So it looks like this year's top Oscar will go to one of three films: Boyhood, The Grand Budapest Hotel or The Imitation Game. But there are exceptions to every rule, and we can't entirely rule out Birdman, which is tied with The Grand Budapest Hotel for the most nominations of any film this year; Birdman was snubbed in the film-editing category, but that could be because the film was seamlessly edited to look as though it was all filmed in one long take.
Beyond that, here are a few points that jumped out at me:
There were no nominations for either of the year's big Bible movies — not even for Patti Smith's theme song for Noah, which got a Golden Globe nomination.
The Grand Budapest Hotel has more nominations than all previous Wes Anderson films combined. Prior to this, The Royal Tenenbaums and Moonrise Kingdom were nominated for their screenplays, while Fantasic Mr Fox was nominated for best original score and best animated feature. None of those films won.
Similarly, Boyhood has more nominations than all previous Richard Linklater films combined. Prior to this, Before Sunset and Before Midnight were nominated for their screenplays, and that was it. Neither film won.
Every film directed by Alejandro G. Iñárritu has been nominated for at least one award now. Prior to Birdman, Amores Perros and Biutiful were nominated for foreign language film, 21 Grams and Biutiful were nominated for their actors, and Babel was nominated for seven awards (of which it won one, for original score).
Belgian film Two Days, One Night was nominated for best actress (Marion Cotillard), but not for best foreign language film, because it was left off the shortlist.
The only other foreign language film that was recognized outside of the foreign film category was the Polish film Ida, which was nominated for its cinematography.
The Lego Movie was nominated for best original song ('Everything Is Awesome'), but not for best animated feature. A part of me wonders if this is because of the film's heavy reliance on Batman and other DC Comics characters, which might have prevented it from being taken as seriously, on an artistic level, as animated-feature nominees like Song of the Sea and The Tale of the Princess Kaguya. (Yes, yes, Big Hero 6, which is based on a Marvel comic, got nominated — but it's based on an obscure Marvel comic. And it's a Disney film, so there's that, too.)
This is the second year in a row in which there are no Pixar nominees. That's partly because Pixar didn't release any feature-length films, but it's also because their short film Lava — which did qualify for an award — was left off the Oscar shortlist.
The Hobbit: The Battle of the Five Armies got a single nomination, for sound editing. And thus the final prequel to a trilogy that was once widely celebrated for its ground-breaking visual effects failed to get even so much as a nomination in that category. In this, the film resembles Star Wars: Episode III: Revenge of the Sith, which got a single nomination… for makeup. (Each of the first two Hobbit films were nominated for visual effects and two other awards, but didn't win anything in the end.)
X-Men: Days of Future Past, which is the seventh film in the X-Men franchise, is also the first film in that series to be nominated for anything — namely visual effects.
Here are the feature films that have been nominated for Oscars, from those with the most nods to those with only one. The titles of those I have seen are in bold:
9 nominations
Birdman or (The Unexpected Virtue of Ignorance) — Picture, director (Alejandro G. Iñárritu), original screenplay, cinematography, actor (Michael Keaton), supporting actor (Edward Norton), supporting actress (Emma Stone), sound editing, sound mixing
The Grand Budapest Hotel — Picture, director (Wes Anderson), original screenplay, cinematography, production design, costume design, makeup and hairstyling, film editing, original score
8 nominations
The Imitation Game — Picture, director (Morten Tyldum), adapted screenplay, actor (Benedict Cumberbatch), supporting actress (Keira Knightley), production design, film editing, original score
6 nominations
American Sniper — Picture, adapted screenplay, actor (Bradley Cooper), film editing, sound editing, sound mixing
Boyhood — Picture, director (Richard Linklater), original screenplay, supporting actor (Ethan Hawke), supporting actress (Patricia Arquette), film editing
5 nominations
Foxcatcher — Director (Bennett Miller), original screenplay, actor (Steve Carell), supporting actor (Mark Ruffalo), makeup and hairstyling
Interstellar — Production design, original score, sound editing, sound mixing, visual effects
The Theory of Everything — Picture, adapted screenplay, actor (Eddie Redmayne), Actress (Felicity Jones), original score
Whiplash — Picture, adapted screenplay, supporting actor (J.K. Simmons), film editing, sound mixing
4 nominations
Mr Turner — Cinematography, production design, costume design, original score
3 nominations
Into the Woods — Supporting actress (Meryl Streep), production design, costume design
Unbroken — Cinematography, sound editing, sound mixing
2 nominations
Guardians of the Galaxy — Makeup and hairstyling, visual effects
Ida — Foreign language film, cinematography
Inherent Vice — Adapted screenplay, costume design
Selma — Picture, original song
Wild — Actress (Reese Witherspoon), supporting actress (Laura Dern)
1 nomination
Begin Again — Original song
Beyond the Lights — Original song
Big Hero 6 — Animated feature

The Boxtrolls — Animated feature
Captain America: The Winter Soldier — Visual effects
CitizenFour — Documentary feature
Dawn of the Planet of the Apes — Visual effects
Finding Vivian Maier — Documentary feature
Glen Campbell… I'll Be Me — Original song
Gone Girl — Actress (Rosamund Pike)
The Hobbit: The Battle of the Five Armies — Sound editing
How to Train Your Dragon 2 — Animated feature
The Judge — Supporting actor (Robert Duvall)
Last Days in Vietnam — Documentary feature
The Lego Movie — Original song
Leviathan — Foreign language film
Maleficent — Costume design
Nightcrawler — Original screenplay
The Salt of the Earth — Documentary feature
Song of the Sea — Animated feature
Still Alice — Actress (Julianne Moore)
The Tale of the Princess Kaguya — Animated feature
Tangerines — Foreign language film
Timbuktu — Foreign language film
Two Days, One Night — Actress (Marion Cotillard)
Virunga — Documentary feature
Wild Tales — Foreign language film
X-Men: Days of Future Past — Visual effects