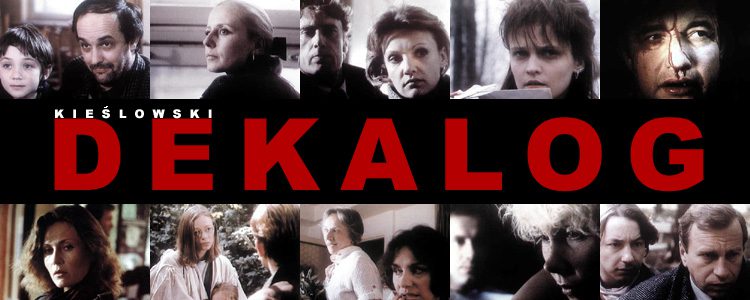 When we think of "The Ten Commandments" in a cinematic context, we typically think of the Charlton Heston-starring life-of-Moses movie produced by Cecil B. DeMille (and remade by others, sometimes using that very same title). But there have also been a number of films about the actual commandments themselves.
Chief among these is Krzysztof Kieslowski's Dekalog, a ten-part miniseries that was produced for Polish television circa 1989 and has since been seen in arthouse theatres around the world. Each episode was loosely based on one of the commandments, and the fifth and sixth episodes, on murder and adultery, were also expanded into the feature-length films A Short Film about Killing and A Short Film about Love.
Now, Deadline reports that NBC and Entertainment One are teaming up to produce a "reimagining" of Kieslowski's series called The Decalogue. It will be set in Boston rather than Poland, and the script is being written by Todd Ellis Kessler.
And that's not the only commandment-themed series currently in the works.
Last year, WGN America and The Weinstein Co. announced that they were producing a miniseries — called, imaginatively, Ten Commandments — in which filmmakers like Gus Van Sant, Lee Daniels, Jim Sheridan, Wes Craven and Michael Cera (!) would each offer an episode-length interpretation of one of the commandments.
Other films and TV shows that have played on the Ten Commandments include:
Commandments, a 1997 film starring Aidan Quinn as a man who is angry with God and decides to break all ten commandments. (DeMille told a similar story in the modern section of the 1923 version of The Ten Commandments.)
A series of documentaries produced for Dutch television in 2001.
The Ten, a 2007 comedy by David Wain (Wet Hot American Summer), which consists of a series of irreverent vignettes based on the commandments.
If you're not familiar with Kieslowski's
Dekalog
, you should definitely check it out. (Kubrick was a fan.)
The Playlist
has rounded up all the episodes, which are currently on YouTube, as well as this handy introduction to the series by Roger Ebert:
Here are the ten episodes: