While the world waits with breathless anticipation for the Oscar nominations to be announced on Thursday morning, the various critics' groups out there have been revealing their own picks for the best films of 2015. I happen to be a member of two such groups, and we've made announcements of our own over the last week or so.
First, and most recently, there is the Arts & Faith Ecumenical Jury Awards, handed out by a group created last year by my friend Kenneth R. Morefield that consists mostly of active participants at the Arts & Faith discussion board. (I have been part of the board since its founding in 2003, and this is my first year on the jury.)
The ten finalists were announced in a press release last week, and today we ranked the bottom half of our Top Ten. The linked post has the full blurbs, but here's the list:
10. About Elly (dir. Asghar Farhadi)
9. Inside Out (dir. Pete Docter)
8. Brooklyn (dir. John Crowley)
7. Gett: The Trial of Viviane Ansalem (dir. Ronit and Shlomi Elkabetz)
6. The Look of Silence (dir. Joshua Oppenheimer)
The top half of the Top Ten will be posted tomorrow, but, as per the press release, it will consist of the remaining finalists: The Assassin, Love & Mercy, Spotlight, Stations of the Cross and Timbuktu. (Incidentally, there are two films on our Top Ten that I have not yet seen: Gett: The Trial of Viviane Ansalem and Timbuktu.)
Turning to other awards, last Wednesday saw the unveiling of the 16th annual Vancouver Film Critics Circle awards. I was a founding member of this group, and for its first few years we just met in a bar or restaurant, voted on the awards, issued a press release, and that was it. But for the past decade or so we've held ceremonies to announce at least some of the winners. (This year, we announced the "international" winners in an early press release, but held back on announcing the Canadian winners until the ceremony, which was attended by some of the local nominees.)
The prizes for the international (i.e. non-Canadian) films were spread out very evenly, with one award per film, while the Canadian awards were divvied up between four films, three of which got multiple trophies. Also worth noting: as Telefilm and other Canadian film-funding agencies continue to make a point of engaging in international co-productions with commercial potential, the line between "Canadian" films and "international" films is blurring. Thus, Room — an Oscar front-runner that was filmed in Canada, written by an Irish-Canadian and directed by an Irishman — was deemed by the VFCC to be both a Canadian film and an international film, and the American lead actress in that film won prizes for her performance in both categories.
Anyway, without further ado, here are the VFCC nominees, with winners in bold:
INTERNATIONAL AWARDS

BEST FILM
Mad Max: Fury Road
The Revenant
Spotlight

BEST ACTOR
Leonardo DiCaprio, The Revenant
Michal Fassbender, Steve Jobs
Eddie Redmayne, The Danish Girl

BEST ACTRESS
Cate Blanchett, Carol
Brie Larson, Room
Saoirse Ronan, Brooklyn

BEST SUPPORTING ACTOR
Mark Rylance, Bridge of Spies
Michael Shannon, 99 Homes
Sylvester Stallone, Creed

BEST SUPPORTING ACTRESS
Jennifer Jason Leigh, The Hateful Eight
Alicia Vikander, The Danish Girl
Alicia Vikander, Ex Machina

BEST DIRECTOR
Todd Haynes, Carol
Alejandro González Iñárritu, The Revenant
George Miller, Mad Max: Fury Road

BEST SCREENPLAY
Emma Donoghue, Room
Charlie Kaufman, Anomalisa
Josh Singer & Tom McCarthy, Spotlight

BEST FOREIGN LANGUAGE FILM
The Assassin
Goodnight Mommy
Son of Saul

BEST DOCUMENTARY
Amy
Cartel Land
Going Clear: Scientology and the Prison of Belief

–

CANADIAN AWARDS

BEST CANADIAN FILM
The Forbidden Room
Room
Sleeping Giant

BEST ACTOR IN A CANADIAN FILM
Michael Eklund, Eadweard
Christopher Plummer, Remember
Jacob Tremblay, Room

BEST ACTRESS IN A CANADIAN FILM
Marie Brassard, Sabali
Brie Larson, Room
Julia Sarah Stone, Wet Bum

BEST SUPPORTING ACTOR IN A CANADIAN FILM
Patrick Huard, My Internship in Canada
Reece Moffett, Sleeping Giant
Nick Serino, Sleeping Giant

BEST SUPPORTING ACTRESS IN A CANADIAN FILM
Joan Allen, Room
Suzanne Clement, My Internship in Canada
Tara Pratt, No Men Beyond This Point

BEST SCREENPLAY FOR A CANADIAN FILM
Benjamin August, Remember
Andrew Cividino, Blain Watters & Aaron Yeger, Sleeping Giant
Emma Donoghue, Room

BEST DIRECTOR OF A CANADIAN FILM
Lenny Abrahamson, Room
Andrew Cividino, Sleeping Giant
Atom Egoyan, Remember

BEST CANADIAN DOCUMENTARY
Haida Gwaii: On the Edge of the World
Fractured Land
How to Change the World
Hurt

BEST FIRST FILM BY A CANADIAN DIRECTOR
Hit 2 Pass, Kurt Walker
Sleeping Giant, Andrew Cividino
Wet Bum, Lindsay Mackay

BEST BRITISH COLUMBIA FILM
Eadweard
Haida Gwaii: On the Edge of the World
No Men Beyond This Point
We also gave the Ian Caddell Award for Achievement to local actress Gabrielle Rose, who sent us a video message because she was starring in a play that night.
The photo at the top of this post, of my colleagues and me at the VFCC ceremony, is from a Flickr album posted by Elvira Lount. Here's a bigger version of it: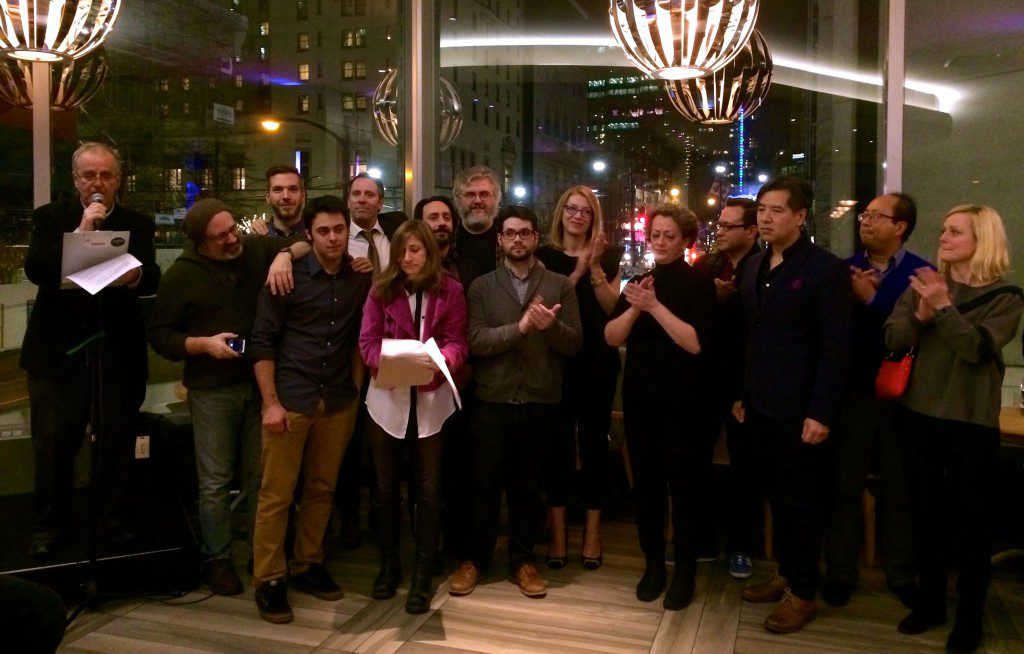 From left to right: Terry David Mulligan, Ken Eisner, Remy Vaillancourt, Josh Cabrita, James Gordon, Katherine Monk, Patrick Maliha, yours truly, Adam Cook, Julie Crawford, Dorothy Woodend, Curtis Woloschuk, Ron Yamauchi, Tony Ma, Janet Smith. VFCC members not pictured: Kim Linekin, Jorge Castillo, Tom Charity, Thor Diakow, Dana Gee, Marsha Lederman, Rick Staehling.
January 13 update: The top half of the Arts & Faith Ecumenical Jury's Top Ten is now online, along with the honourable mentions (mine is 45 Years).