After a ten-year hiatus, Mel Gibson is back in the director's chair — and, fittingly for the Oscar-winning director of Braveheart and The Passion of the Christ, his next film is a war movie with a potentially strong faith element.
Hacksaw Ridge tells the true story of Desmond Doss, a Seventh-Day Adventist who refused to carry a gun and served instead as a medic during World War II. He became the first conscientious objector to win the Congressional Medal of Honor after he saved 75 men during the battle of Okinawa without once using a firearm.
I haven't seen the film, so I obviously don't know exactly how it will tell this story, but I have a hunch that this could turn out to be the "faith-based World War II movie" that many people hoped Unbroken would be a couple years ago.
That film had a big first weekend partly because of intense evangelical interest in the film's protagonist Louis Zamperini, who became a Christian after the war and learned to forgive his Japanese captors — but many viewers were disappointed that the film relegated the Christian part of Zamperini's life to the closing title cards.
Hacksaw Ridge, on the other hand, could put its protagonist's faith front-and-centre from start to finish — and the film was not only directed by Gibson, whose "faith-based" bona fides are well-known, but it was also co-written by Randall Wallace, an openly Christian filmmaker who wrote and directed Heaven Is for Real.
In any case, we'll see how it all turns out when the film opens November 4.
For now, here is the first poster for the film: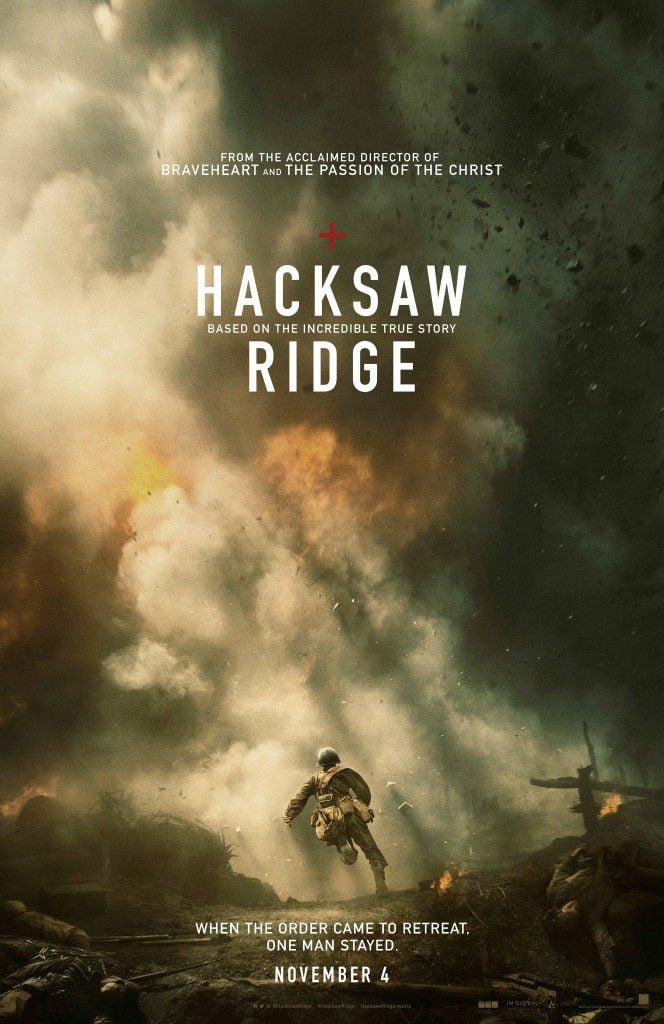 –
One other interesting note: Hacksaw Ridge stars Andrew Garfield as Doss, and Garfield will soon be seen in Martin Scorsese's Silence, which is also a prestigious faith-inflected period piece set in Japan.