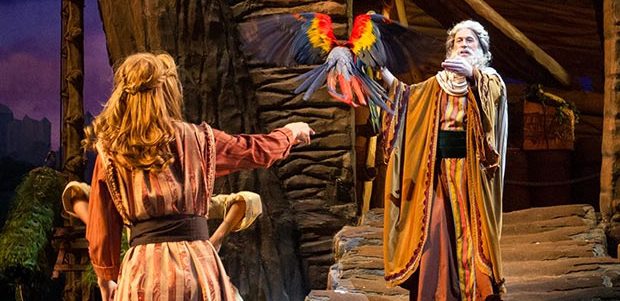 For over twenty years, the folks at Sight & Sound have been putting on spectacular musical stage shows based on the Bible. But it's only in the last few years that they have branched out to the big screen, partnering with Fathom Events to make their shows available to theatrical audiences that might not be able to swing by their massive live theatres in Lancaster, Pennsylvania or Branson, Missouri.
Two years ago, Sight & Sound made its movie-theatre debut with Jonah, which used creative stagecraft to put the audience underwater with the titular prophet and the whale that swallowed him up. Last year, they went even more epic with Moses, which surrounded the audience with the parted waters of the Red Sea. And now, this month, they're moving on to the story that started it all: Noah, a version of which was Sight & Sound's first full-scale biblical musical way, way back in 1995. (Noah is also the first of their shows that will come to movie theatres north of the border, in Canada.)
On one level, Sight & Sound musicals are broadly entertaining, family-friendly shows with lots of live animals and a big helping of humour. ("We're middle-aged! We're only in our 430s!" cries Noah's wife at one point.) On another level, they are very much written with an eye towards integrating the Old and New Testaments, so that people in the audience will see foreshadowings of Jesus in the stories of the earlier biblical heroes; sometimes, Jesus himself might appear as a character in the final scenes.
The writers of these musicals also make a point of researching the historical context of the stories they're developing, sometimes with interesting results. Jonah, for example, ties the biblical book of Jonah to the book of II Kings – the only other Old Testament text that mentions Jonah – and it has the Israelite king allude to the differences between Jonah and the other prophets from that era. Moses, meanwhile, proposes that the "Pharaoh's daughter" who adopted its title character was the future Queen Hatshepsut – one of Egypt's few female Pharaohs – and, instead of making her the calm, understanding figure that most movies have made her out to be, the Sight & Sound musical imagines that she is hostile to Moses' Hebrew heritage and that she adopted him for the advantage that having a son might give her within the Egyptian royal court.
Noah, for its part, is essentially pre-historic – in the sense that it takes place before the Flood and, thus, before any of our secular history was written down – so the writers can't make quite the same sorts of connections here that they do in those other shows. But they do imagine the kinds of opposition that Noah might have encountered, and how the hostility he faced might partly explain why it took him so long to build the ark.
Josh Enck, president and chief creative officer at Sight & Sound, says the writers at Sight & Sound want to "honour and serve the scriptures first and foremost, and anything fictional that we would add to it is added to exemplify and magnify the core message that the Lord already embedded into the stories."
For example, he says, expanding the role of Moses' adoptive mother came out of their historical research, and out of a desire to create some empathy for characters who are mentioned only briefly in the Bible. "We didn't want to create just a two-dimensional character with Hatshepsut," he says. "We wanted to have the audience actually feel for her a little bit and maybe understand why she acts out the way that she does. My dad, he taught us boys when we were growing up a good life lesson. He said it's impossible to hate somebody once you know their story. And that always stuck with me.
"So we tried to create characters that are relevant and accessible, which was really the heart behind the Moses show to begin with. Everybody has this idea of Moses standing on this mountain with beautiful white windswept hair, and this eloquent speaking voice, and this angry God thundering down — 'You shall do these things!' — but it doesn't take long when you read that story and dig into the scriptures and let the Holy Spirit bring revelation to you that that is not the story that is in the Bible.
"The story in the Bible is a man who had a speech impediment, he had anger issues, he killed a man, and that wasn't an angry God thundering his commandments from a mountaintop. That was a loving God that was saying, 'If you do these things — if you do these ten things — you could experience an abundant life. You could experience positive, very life-giving experiences.' And so we wanted to take Moses off the mountain and show his humanness so that people could approach who that is, and I believe we have done that with the other characters as well, including Hatshepsut."
All three of the shows that have made it to the big screen so far happen to have a very watery theme, from Jonah's ill-fated voyage across the Mediterranean to Moses' parting of the Red Sea and Noah's desperate bid to survive a global flood. The first two shows essentially surround the audience with simulated water, while the third puts them on the ark. When this is pointed out to Sight & Sound brand manager Dean Sell, he replies, "And the show that's on the stage right now in Lancaster is Jesus, and one of the big scenes is Jesus walking on water! So maybe you're picking up on something that we've got an affinity for!"
Is there any particular reason for this recurring motif? "It is interesting when you look at it that way, that water plays such a significant part in the stories that we've been telling," says Sell. "But I think we would say it just plays a big part in the Bible as a whole."
As it happens, this year marks the fifth anniversary of two big Hollywood movies about Noah and Moses, both of which were very controversial at the time for their perceived departures from the Bible. Was that at the back of Sight & Sound's collective mind when they opted to put their own versions of Moses and Noah on the big screen?
"Pure coincidence on our part!" says Sell. "Whether it's God's orchestration or not is for him to answer. We are fans of entertainment, we love the movies, we love live stage shows, but we certainly aren't looking to those places to make decisions about what we're doing. What we're doing is saying, 'Hey, what is the best show that we believe should be on the stage today,' and following that path."
Sight & Sound has been filming its musicals and releasing them on DVD for over a decade now, but it was only recently that they started putting their shows on the big screen. Sell says the three musicals that have had the big-screen treatment so far were initially filmed for the DVD market, but future shows will be filmed with movie theatres in mind. "In the past, we were filming them thinking about people watching them maybe in church or at home," he says, "and now, as we're starting to film them, we are deliberately creating them for the movie theatre space and the big screen."
As the musicals make a home for themselves on the big screen, Sight & Sound has attracted some new theatre patrons, who have made the pilgrimage to Pennsylvania and Missouri to see one of their stage productions in person.
"I think that's one of the most surprising, miraculous stories that we hear," says Sell, who recalls a family from California in particular. "They were just so blown away [by the Fathom Events screening they attended] that they decided they needed to come and see it for themselves, and so they booked tickets and came to Lancaster to see the show live. It certainly wasn't what we were expecting. We're not looking at it as a means to get people to one of our live stage shows, but it just blew us away when we heard about that."
The key thing, says Sell, is not whether people are drawn to Sight & Sound's live theatres but whether the musicals — in whatever format — point people to the Bible.
"I think the single biggest thing that we want anyone to experience is the story coming to life for them in a brand new way, in a way that they have never experienced before, and really having a newfound enthusiasm for God's Word and engaging in his scripture," says Sell.
"So we want people to be able to relate to Noah and the struggle that he had, and making a choice of being faithful to what he was being asked to do but having to walk through many obstacles and lots of opposition against that. And if we can have somebody walk out of the theatre at the end of the show and say, 'You know what? I need to go read that story for myself,' then to us, we count it as a success."
— Jonah and Moses are currently out on DVD. Noah will play in American theatres on April 9, 11 and 13 and in Canadian theatres on April 14, 20, 22 and 28.
Here is a trailer for the Fathom Events release:
And here is a featurette on 'The Heart of the Story':