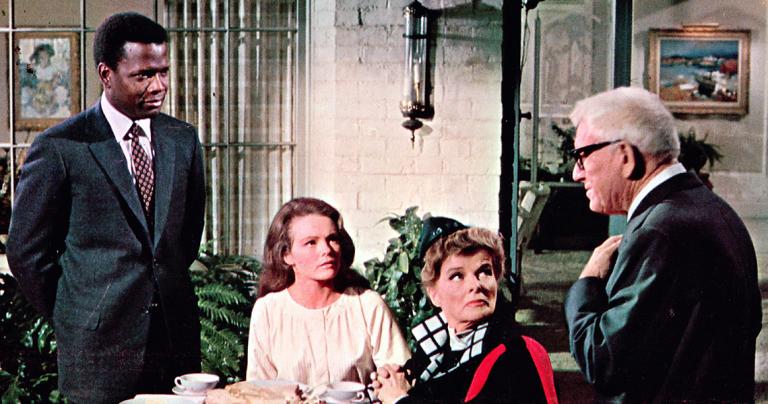 The latest in a month-long series of re-posts from my Facebook marathon in April 2020.
–
Sidney Poitier marathon part 13 (1967c):
After flirting with interracial romance in 1965's A Patch of Blue and 1967's To Sir with Love, Sidney Poitier finally Goes There in Guess Who's Coming to Dinner (1967), the film in which a black man and a white woman shock their parents by falling in love and getting engaged.
Rotten Tomatoes says the film is "more well-intentioned than insightful", and that about sums it up. But while the film does have its problems, it's an interesting time capsule, and what leaps out at the viewer now is how the statements the characters make regarding the future of social progress do or don't coincide with what has actually happened over the past 54 years.
For example, Poitier and his fiancee meet in Hawaii, and he says she believes that all of their children will be president some day — and, well, it turns out this movie came out just six years after Barack Obama, himself the child of a black man and a white woman, was born in Hawaii.
Later, the woman's father, who is played by Spencer Tracy, notes that interracial marriage is against the law in 16 or 17 states. That line of dialogue was already outdated before the movie had even come out: the film finished shooting in May 1967, and in June — just two or three weeks later — the Supreme Court struck down all anti-miscegenation laws in Loving v. Virginia. (The film did not come to theatres until December, six months after the Supreme Court ruling.)
The Tracy character also says that the social change the lovers represent might come about in 50 years or 100 years but not in his lifetime. As it happens, Tracy himself died just two days before the Loving v. Virginia ruling — so he not only didn't get to see the social change, he also didn't get to see what sort of reception the movie got! — but the "50 years" line got me thinking about how the film's 50th anniversary was the year in which Obama finished his second term, nine years after he was first elected.
Other predictions took a little longer to come true, and some statements don't resonate today the way they might have when the film came out. To the former point, Tracy says Willie Mays could be mayor of San Francisco now if he wanted to, but San Francisco did not elect its first non-white mayor until 1996 (when Willie Brown — another Willie! — got the job). And to the latter point, Poitier chastises his father for thinking of himself as "a coloured man" rather than simply "a man", but today's identity politics (a term I use descriptively, not pejoratively) tend to emphasize racial, sexual and other distinctions, lest minority experience be trumped by majority-driven definitions.
As for the film itself: Once again, Poitier plays a character who is so perfect that the only way someone could object to him is if the person objected to the colour of his skin — and the film, to its credit I guess, recognizes that the Poitier character is too good to be true. After getting someone to look up some info on Poitier and hearing all about his schooling and work experience, Tracy says, "Well, I can certainly understand why he didn't say much about himself. Who the hell would believe him?"
The entire story takes place in one day, as Poitier and his fiancee reveal to their parents that they met a couple of weeks ago and are planning to get married just a week or two later. So even without the interracial stuff, there are some pretty good reasons why someone might want to hit the pause button (not stop, just pause) on their plans: Everything is moving so quickly, they only just met, and oh, by the way, he is 14 years older than her, too (which, admittedly, his father says is a good thing because women age faster than men; make of that what you will). The fiancee is also one of those characters who is so annoyingly sure of herself that she steamrolls past anyone and everyone who might get in the way of her plans; at some point she and her perfect lover are going to have an argument about something, and she won't know how to deal with it because, as far as this film is concerned, she has never learned how to compromise, negotiate, or see anything from another person's point of view.
The age gap does put Poitier in an interesting position, though. He was 40 when the film came out, and his character is 37, and this makes him young enough to be part of the young, revolutionary generation, sort of (he says people like him won't be free until his father's generation has died out), but it also makes him old enough to appeal to the parents' generation: He has lived long enough to have a thriving career (so there are no worries about the couple's financial security, the way there might be if he was 23 like his bride-to-be), and he declines to have sex with his fiancee until after they are married (or at least until after he has met her parents) — though the film does make it clear that she comes from a more permissive generation and that he is okay with that (her friends lived together for two years before they got married, and Poitier smiles and wags his finger at them in mock disapproval).
But this is ultimately a movie made by and for white liberals. It is Tracy, not Poitier, who gets top billing, and it is Tracy who has the closest thing to a movie-length character arc (as Roger Ebert used to say, you can tell what a movie is about by what changes between the beginning and end, and it is Tracy who does all the changing here), and the film concludes with Tracy giving a speech that sums up all the arguments given throughout the film and where he does or doesn't agree with them. And then the last words of the film literally consist of Tracy asking his black cook, "When the hell are we going to get some dinner?" All very genial, but the film ends on a note that lets the wealthy white elite keep their position of privilege.
A few other quick points:
— You might think that the title refers to Poitier, but when Katherine Hepburn speaks the line, she is actually referring to the imminent arrival of the Poitier character's parents.
— This is one of those films where someone walks out onto the balcony and comments on how lovely the view is, and you spend the rest of the movie thinking it's just a painted backdrop.
— I very much appreciated the fact that the one character who is utterly unfazed by the interracial relationship is a Catholic monsignor. Not only does he say that he has seen many interracial marriages work out all right, he has even heard of the Poitier character specifically, via an article in the Catholic magazine Commonweal — which makes the monsignor seem like a more informed person than Poitier's future in-laws (and the Tracy character is supposed to be a famous newspaper editor!).
— This is the second Poitier film of 1967, following To Sir with Love, to mention the Beatles. In this case, it is the monsignor who cites them, when he quotes the 1965 song 'We Can Work It Out'.
— To Sir with Love used the sound of a passing train to drown out Lulu's use of "son of a bitch", but there is no censorship in this film when Tracy says, "I'll be a son of a bitch."
— Tracy says less than 12% of San Francisco is black. Wikipedia says the African-American share of the population in that city has gone down from 13.4% in 1970 to 5.2% in 2019. There was a movie inspired by this phenomenon in 2019 called The Last Black Man in San Francisco.
— Reunions: Poitier's mother is played by Beah Richards, who played a backstreet abortionist just a few months earlier in In the Heat of the Night, and his father is played by Roy Glenn, who co-starred with Poitier in 1957's Edge of the City, 1959's Porgy and Bess and 1961's A Raisin in the Sun. This was also the third film Poitier starred in for producer-director Stanley Kramer, following 1958's The Defiant Ones and 1962's Pressure Point.
— Poitier was 40 years old when the film came out, and his character is 37. At one point, the Poitier character says his dad is 30 years older than him — so apparently the Glenn character is in his mid- to late 60s — but Glenn was actually 53 when the film came out, and was thus only 13 years older than Poitier in real life. Richards, for her part, was 47 when the film came out, and was thus only 7 years older than Poitier, despite the fact that she was playing his mother.
— The age gap is a lot bigger between the white actors: Katherine Houghton was 22 when the film came out, and the actors playing her parents were both in their 60s (Katherine Hepburn was 60, and Tracy was 67). The Houghton character is 23, but no age is specified for her parents.
— The film won Oscars for Hepburn and its script. It was Hepburn's tenth nomination and second win (following 1933's Morning Glory); she went on to win two more. The film was nominated in eight other categories: it lost picture, actor (Tracy) and film editing to In the Heat of the Night, director to The Graduate, supporting actor (Cecil Kellaway, who played the monsignor) to Cool Hand Luke, supporting actress (Richards) to Bonnie and Clyde, and art direction and music to Camelot.
— This is one of 15 films to get Oscar nominations in all four acting categories — and, together with Bonnie and Clyde, it marks the only time that two films got nominations in all four acting categories in the same year.
— Notably, while four of his co-stars were nominated for Oscars, Poitier himself was not nominated for this or for either of the other films he starred in that year (To Sir with Love, In the Heat of the Night), despite the fact that all three films were big critical and commercial hits. Was it because the Poitier vote was split between three movies? Was it because voters genuinely thought the five nominated lead actors gave better performances than he did? (The five nominees were Tracy, In the Heat of the Night's Rod Steiger, Bonnie and Clyde's Warren Beatty, The Graduate's Dustin Hoffman and Cool Hand Luke's Paul Newman.) Was it because there was some uncertainty as to whether Poitier's role belonged in the lead or supporting categories? You can't quite say that the Oscars were ignoring black actors that year, given that Richards was nominated.
–
The image above shows Sidney Poitier, Katharine Houghton, Katharine Hepburn and Spencer Tracy in Guess Who's Coming to Dinner.