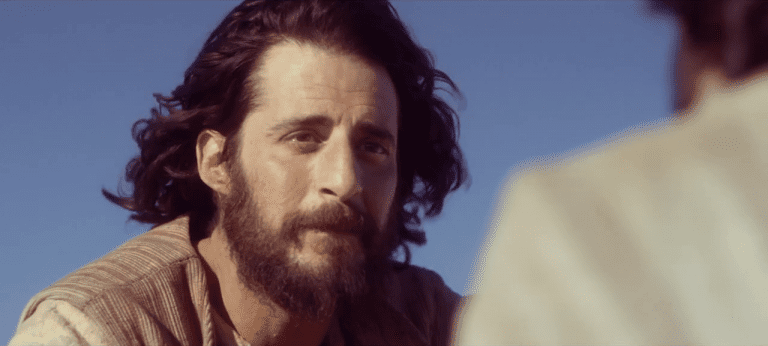 The build-up to Season 2 of The Chosen continues, as last night writer-director Dallas Jenkins hosted a livestream of two more episodes from Season 1 — and along the way, he made a comment that raises some interesting questions about where the series could draw some of its material from in the future.
At the 12:38 mark in the video below, while discussing gift-giving options, Jenkins quotes a famous statement from the Bible but then admits he's not sure who said it:
This is what Jenkins says in the video:
You know who said those kinds of things? "It is better to give than to receive"? (to an offscreen colleague) Did Jesus say that, or is that just another– Is that a proverb, or did Jesus say that? (back to the camera) I'm making a show about Jesus, and I honestly don't know if that was a Jesus quote or if that's just another Bible-verse quote. So that shows you how crazed my brain is right now and how focused I am on Season 2, because he didn't say it in Season 2.
It's perfectly understandable that Jenkins was uncertain on this point, as this is one of those rare Jesus sayings that does appear in the Bible but not in the gospels.
To put this another way, it's one of those rare verses outside of the gospels that is sometimes printed in red, in Red Letter Edition Bibles — and it might be the only one that reflects a teaching from Jesus' earthly ministry, rather than something he said in a post-Ascension vision to Paul (Acts 9:4-6, 18:9-10, 22:7-21, 23:11, 26:14-18; II Corinthians 12:9), Ananias (Acts 9:10-16), or the author of the Book of Revelation.
The saying comes up in Acts 20:35, at the end of a speech that Paul gives to the elders of the Ephesian church when they visit him in Miletus:
In everything I did, I showed you that by this kind of hard work we must help the weak, remembering the words the Lord Jesus himself said: "It is more blessed to give than to receive."
So what we have here is Luke (the author of Acts) quoting Paul quoting Jesus… and the quote is a saying that does not appear in any of the gospels or in any of the epistles. It is part of a tradition that was passed down between church members but somehow never got incorporated into any of the gospels (not even Luke's!).
So it is, perhaps, not too surprising that someone who is making a TV show based on the gospels wouldn't have come across that passage lately, and thus might not be sure that Jesus ever said it. But it does raise interesting questions about what other quotes and facts from the rest of the New Testament could be incorporated into the series!
As it stands, I cannot currently think of any dramatization of Jesus' life that shows him giving this teaching from Acts 20:35. But it would be very cool if one did. The Chosen is supposed to last another five seasons, so who knows, maybe it will do that.
Incidentally, the fourth and final Season 1 livestream will take place here, tonight:
And then Season 2 will premiere on Sunday, at 8pm EST / 5pm PST.