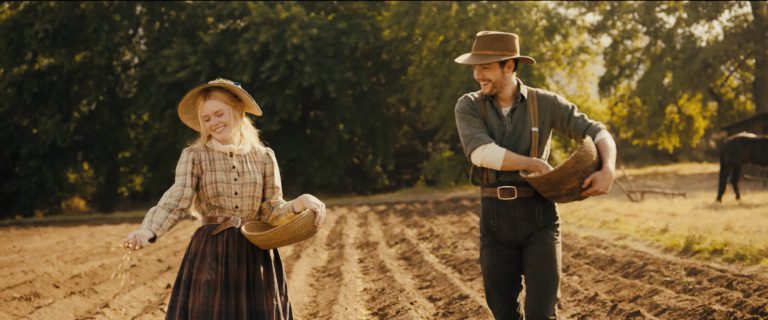 Just a quick note on how Redeeming Love did in its second week at the box office.
The film, which sets the biblical story of Hosea and Gomer during the California Gold Rush, earned an estimated $1.9 million this weekend.
This represents a drop of 47.6% from the film's opening last week, despite the fact that it played in slightly more theatres (1,963 this week compared to 1,903 last week).
It was the steepest drop of any film in wide release. Scream dropped 39.8%, while all other films in the top ten had drops below 22% — or, in the case of American Underdog, Ghostbusters: Afterlife and Licorice Pizza, went up compared to last week.
Even so, with no new movies in wide release, Redeeming Love held on to its position as the 4th-highest-grossing movie of the week, behind Spider-Man: No Way Home ($11 million), Scream ($7.4 million), and Sing 2 ($4.8 million).
Moviegoing as a whole went down this week. As Tom Brueggeman notes at IndieWire, this was the slowest weekend at the box office in over eight months:
In its absence (and without any other wide opening), the three day total [for all movies combined] will come to only $35 million. That makes it the weakest weekend since May 21-23 last year, just before "A Quiet Place II" opened and theaters started seeing steady improvement. . . .

This weekend only grossed 43 percent of what the same date did in 2020, pre-COVID. That weekend had the Super Bowl to contend with (two weeks later this year) and, as usual, only minor distributor interest in launching new titles. The storm, though it reduced sales by perhaps $5 million this weekend, is far less a factor than the game normally is.

With this weekend added, our four-week rolling comparison (a far better gauge than any one week) to the same period two years ago is now at 45 percent. Obviously a lack of titles is a major reason, but the shortfall also reflects an overall drop in performance for most films compared to what previous results would have been.
I believe this would be the lowest four-week rolling comparison since The Suicide Squad opened on August 6. Brueggeman said the average was 44% then.
Prior to that, I think you'd have to go back to mid-June — to a point between the releases of A Quiet Place Part II and F9 — to find an even lower four-week rolling comparison (when three weeks were between 42% and 45% and the fourth week fell to 23%).
– – –
Here is how Redeeming Love currently ranks at the North American box office next to other Bible-themed movies that have played in theatres over the past 43 years:
2004 — The Passion of the Christ — $370.8 million
1998 — The Prince of Egypt — $101.4 million
2014 — Noah — $101.2 million
2014 — Exodus: Gods and Kings — $65 million
2014 — Son of God — $59.7 million

2017 — The Shack — $57.4 million
2009 — Year One — $43.3 million
2017 — The Star — $40.9 million
2006 — The Nativity Story — $37.6 million
2016 — Risen — $36.9 million
1981 — History of the World, Part I — $31.7 million
2016 — Hail, Caesar! — $30.5 million
2016 — Ben-Hur — $26.4 million
2002 — Jonah: A VeggieTales Movie — $25.6 million
1979 — Monty Python's Life of Brian — $20 million
2018 — Paul, Apostle of Christ — $17.6 million
1980 — Wholly Moses! — $14.2 million
2021 — Christmas with The Chosen: The Messengers — $13.7 Million
2006 — One Night with the King — $13.4 million
1988 — The Last Temptation of Christ — $8.4 million
2022 — Redeeming Love — $6.5 million
2016 — The Young Messiah — $6.5 million
1985 — King David — $5.1 million
2018 — Samson — $4.7 million
2003 — The Gospel of John — $4.1 million
2014 — The Song — $1.0 million
2007 — The Ten Commandments — $952,820
2018 — Mary Magdalene — $124,741