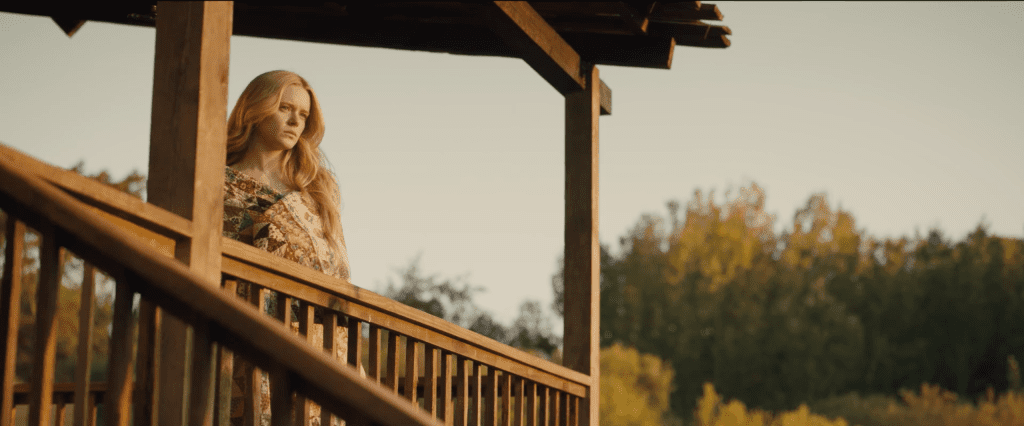 Redeeming Love didn't exactly light up the box office this week, but it had the distinction of being the top new movie in a week that was slow even by pandemic standards.
Redeeming Love earned an estimated $3.7 million between Friday and Sunday, which was enough to make it the 4th-highest-grossing movie of the weekend — and the top non-sequel — behind the eighth live-action Spider-Man (now in week six), the fifth Scream (now in week two), and the second Sing (now in week five).
The film, which opened in 1,903 theatres, also managed a $1,949-per-screen average, which ranked third for the weekend, behind Spider-Man and Scream.
But if that's the silver lining, the cloud as a whole is a lot darker. Redeeming Love, which was distributed by Universal, had one of the lowest openings of any "faith-based" film to get a wide release from a major studio, and it even had a smaller first weekend than Christmas with The Chosen: The Messengers, which was going to be a two-nights-only release last month but was so popular it stayed in theatres for weeks.
The overall box office did pretty badly, too. As Tom Brueggeman notes at IndieWire:
All told, theaters grossed $47 million this weekend, which represents 39 percent of same 2020 weekend. The rolling four-week comparison against 2020 now stands at 49 percent. (In January 2020, the pandemic was known largely as a headline out of China.) With what's available, that is about as good as can be expected.
That 49%-of-two-years-ago stat is part of a recurring trend over the past few months. Ticket sales surged in October — when there were new Venom, James Bond, and Dune movies — and they surged again in December when Spider-Man: No Way Home came out, but otherwise the comparisons to pre-Covid times have been pretty bleak.
Working backwards to the beginning of December, the previous rolling-four-week comparisons were 59%, 76%, 73% (New Year's), 73% (Christmas), 65% (Spider-Man: No Way Home's opening weekend), 48%, and 54% in the first week of December — which, as Brueggeman noted at the time, was "the lowest figure since mid-August".
So this week nearly beat the second week of December (when Steven Spielberg's remake of West Side Story came out) for the lowest two-years-ago comparison since last summer. And with no wide releases planned at all for next week — not since Sony/Marvel's Morbius got delayed a few weeks ago to April — the comparisons could get even worse.
In the meantime, we'll just have to see what sort of staying power Redeeming Love has.
– – –
Here is how Redeeming Love currently ranks at the North American box office next to other Bible-themed movies that have played in theatres over the past 43 years:
2004 — The Passion of the Christ — $370.8 million
1998 — The Prince of Egypt — $101.4 million
2014 — Noah — $101.2 million
2014 — Exodus: Gods and Kings — $65 million
2014 — Son of God — $59.7 million
2017 — The Shack — $57.4 million
2009 — Year One — $43.3 million
2017 — The Star — $40.9 million
2006 — The Nativity Story — $37.6 million
2016 — Risen — $36.9 million
1981 — History of the World, Part I — $31.7 million
2016 — Hail, Caesar! — $30.5 million
2016 — Ben-Hur — $26.4 million
2002 — Jonah: A VeggieTales Movie — $25.6 million
1979 — Monty Python's Life of Brian — $20 million
2018 — Paul, Apostle of Christ — $17.6 million
1980 — Wholly Moses! — $14.2 million
2021 — Christmas with The Chosen: The Messengers — $13.7 Million
2006 — One Night with the King — $13.4 million

1988 — The Last Temptation of Christ — $8.4 million
2016 — The Young Messiah — $6.5 million
1985 — King David — $5.1 million
2018 — Samson — $4.7 million
2003 — The Gospel of John — $4.1 million
2022 — Redeeming Love — $3.7 million
2014 — The Song — $1.0 million
2007 — The Ten Commandments — $952,820
2018 — Mary Magdalene — $124,741