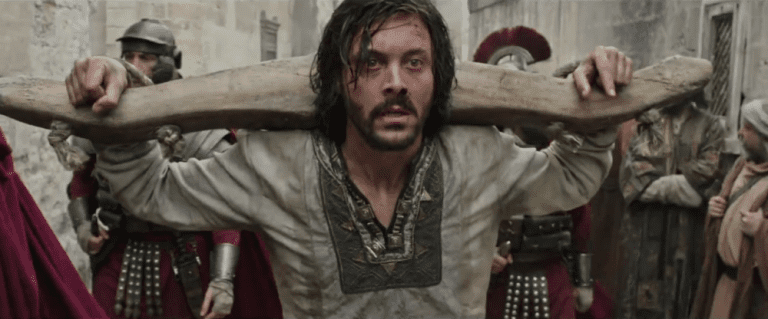 Catching up on a news item here…
Variety reported last week that Jack Huston is currently starring in a movie called Hail Mary, which the trade paper described as "a modern-day biblical fantasy that upends the mythology of Mary and Joseph" and as "a retelling of Mary and Joseph story, one that promises to alter 'everything you thought you believed in.'"
The film has something to do with a miraculously pregnant immigrant from Belize named Maria (Natalia del Riego) who tries to enter the United States through a tunnel under the Rio Grande that a carpenter named Jose (Benny Emmanuel) built for the Mexican cartels. It's not clear to me if this is just a retelling of the Nativity story in a modern-day setting — à la Jean-Luc Godard's Je vous salue, Marie (1985), which was set in Switzerland — or if it's something more than that, as the official plot synopsis says something about this birth being a prelude to "the second coming".
(Is this another film, like 2000's Bless the Child, which assumes that the second coming of Christ will be just like the first, with a virgin birth and everything? If so, that reflects a profound misunderstanding of orthodox Christianity, which holds that Jesus is still incarnate as a resurrected human being and thus needs no reincarnation.)
Jack Huston, who previously starred in the 2016 remake of Ben-Hur (and had a cameo in the Bible-movie-adjacent Hail, Caesar!), is playing a "right-hand man of the devil" named Baal who is pursuing Maria, while Angela Sarafyan, who plays one of the robot sex workers in HBO's Westworld, is playing "the archangel Gabrielle". (Side note: Sarafyan's Westworld co-star Rodrigo Santoro played Jesus opposite Huston's Judah Ben-Hur in the Ben-Hur remake. It all connects, I tell you. It all connects.)
Amusingly, Huston's Ben-Hur was the only major theatrical version of that story that did not have a Nativity sequence. (The 1925 and 1959 versions both had one.) So it's kind of funny to see him, now, in a movie that riffs on the Nativity story in some way.
The film's director, Rosemary Rodriguez, has a long list of TV credits but has made only two previous feature films, i.e. 2001's Acts of Worship and 2016's Silver Skies. The film's script is written by Knate Lee, whose previous credits include The New Mutants, the last two Jackass movies, and the most recent version of Stephen King's The Stand.
The film is currently being shot in Mexico. No release date has been set yet. Stay tuned.