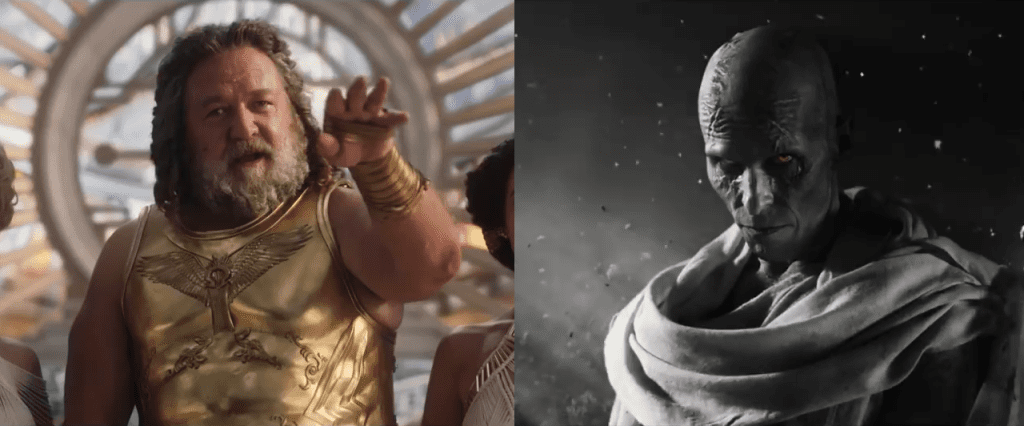 The new trailer for Thor: Love and Thunder marks a reunion of sorts for Christian Bale and Russell Crowe. It's also interesting for the way it resonates or contrasts with the actors' previous appearances in comic-book movies and Bible movies.
In 2007, Crowe and Bale co-starred in the remake of 3:10 to Yuma.
By then, Bale had already starred in one DC Comics movie, 2005's Batman Begins, and he went on to make two more, 2008's The Dark Knight and 2012's The Dark Knight Rises. Crowe, for his part, played Superman's father in 2013's Man of Steel — which was produced by Christopher Nolan, who had directed Bale in all three of his Batman films.
Then, in 2014, Crowe and Bale both starred in Bible movies. Crowe, who had won an Oscar for his role in the Ridley Scott-directed Gladiator, played Noah in Darren Aronofsky's Noah, while Bale, who had won an Oscar for his role in the Darren Aronofsky-produced The Fighter, played Moses in Ridley Scott's Exodus: Gods & Kings.
And now, in 2022, Crowe and Bale are both appearing in a Marvel Comics movie that ties into ancient mythology. Thor: Love and Thunder — which brings back Chris Hemsworth as the Norse god Thor, a role he first played in 2011's Thor — introduces Bale as the main villain Gorr the God Butcher, while Crowe also appears as the Greek god Zeus.
Because the new Thor film is directed by Taika Waititi, who also directed 2017's Thor: Ragnarok — a rather glib treatment of the Norse apocalypse — it's a given that the new film will be much more comedic than the very serious DC Comics movies and Bible movies that Crowe and Bale have made in the past. And the trailer bears that out:
It's too early to say much more about the film, or how it will resonate with the actors' previous films, of course. But I do wonder how Thor: Love and Thunder's treatment of Greek mythology will tie into what we saw just six months ago in Eternals, a movie which implied that many of Earth's mythological beings, from the Sumerian gods to the Judeo-Christian angels, were inspired by a group of aliens who have been living on Earth for the past 7,000 years. In that film, it seemed pretty clear that Sersi (Gemma Chan) was the inspiration for Circe, Thena (Angelina Jolie) was the inspiration for Athena, Phastos (Brian Tyree Henry) was the inspiration for Hephaestus, and so on.
Incidentally, I haven't written anything here at FilmChat about Eternals yet, but I did fire off a few tweets comparing and contrasting it with Noah last year:
Weirdly, the opening crawl in #Eternals reminded me a bit of the opening crawl in @DarrenAronofsky's #Noah, except it also reminded me of the premise behind #HisDarkMaterials (which Aronofsky's film most definitely did *not* do). (Arishem is more "Authority" than "Creator".)

— Peter T Chattaway (@ptchat) November 6, 2021
*I've* definitely been talking about it. #Eternals is in some ways the movie that many people accused #Noah of being. It's the movie in which the Creator is basically evil and the angels are *correct* to rebel against him. https://t.co/VBYmqK71S2

— Peter T Chattaway (@ptchat) November 12, 2021
Er… um… I guess this is another way that #Eternals is basically the opposite of #Noah…? https://t.co/vjSdGXubEe

— Peter T Chattaway (@ptchat) November 14, 2021
And apparently there's a link between Noah and the Eternals in the original comics!
Few things in comics make me laugh as hard as Jack Kirby's Eternals just declaring out of the gates, "You know Noah? Yeah that was us." pic.twitter.com/x6gVid480k

— Judgment Dave, the Comic Book Herald (@ComicBookHerald) October 3, 2019
Anyway. Thor: Love and Thunder comes to North American theatres July 8.