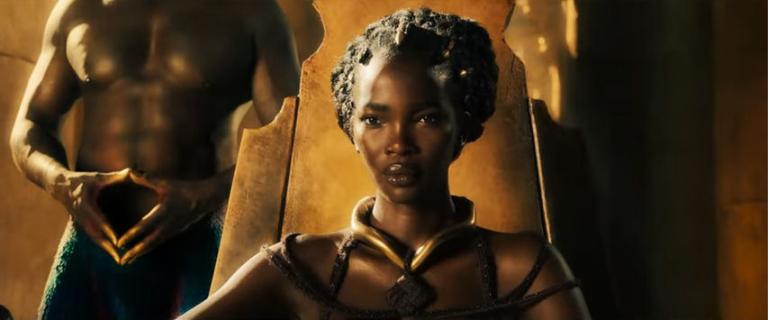 George Miller, the Aussie director of both Happy Feet movies and all four Mad Max films, premiered a new movie at the Cannes film festival today. It's called Three Thousand Years of Longing, and it stars Tilda Swinton as a lonely academic who encounters a Djinn, played by Idris Elba, while she is staying in a hotel in Istanbul.
The Djinn offers the academic three wishes in exchange for his freedom, but she's smart enough to know that wishes often don't turn out the way people expect — so to plead his case, the Djinn tells her stories from his past, at least one of which involves the Queen of Sheba, a legendary figure who is first mentioned in the Hebrew Bible.
I don't expect this film to have much to do with the Bible itself; the Queen of Sheba is mentioned in just one half of one chapter, I Kings 10, and she has been the subject of many legends since, and it's quite likely that this film — which is based on A.S. Byatt's short story 'The Djinn in the Nightingale's Eye' — will take its cue from those later legends and/or spin an entirely new set of legends around her. (In that sense, the Queen of Sheba's role in this film might be similar to Melchizedek's role in Paulo Coelho's The Alchemist, a film version of which has been in development for several years.)
Still, I'm interested in seeing what the movie does with this character.
In the meantime, here is the trailer that was released today:
Incidentally, the Queen of Sheba is being played in this film by Ugandan model Aamito Stacie Lagum. This fits with ancient traditions which state that the Queen of Sheba came from what is now called Ethiopia (though modern scholars tend to associate her with the Sabaeans who lived in South Arabia, in what is now called Yemen). It also fits with recent trends in casting: While the character has been played by a number of white actresses over the years — perhaps most famously by the Italian sex symbol Gina Lollobrigida in 1959's Solomon and Sheba — she has also been played by black actresses like Halle Berry in 1995's Solomon & Sheba and Vivica A. Fox in 1997's Solomon.
This is also the third news item I've posted in the last two weeks about black actors playing Bible characters and/or appearing in upcoming Bible films, following the news about Jay Ellis possibly playing Jesus in History of the World Part II and LaKeith Stanfield playing the title role in The Book of Clarence. And Magdala, starring Elsa Wolliaston as Mary Magdalene, is premiering in Cannes this week too.
Three Thousand Years of Longing is coming to North American theatres August 31.