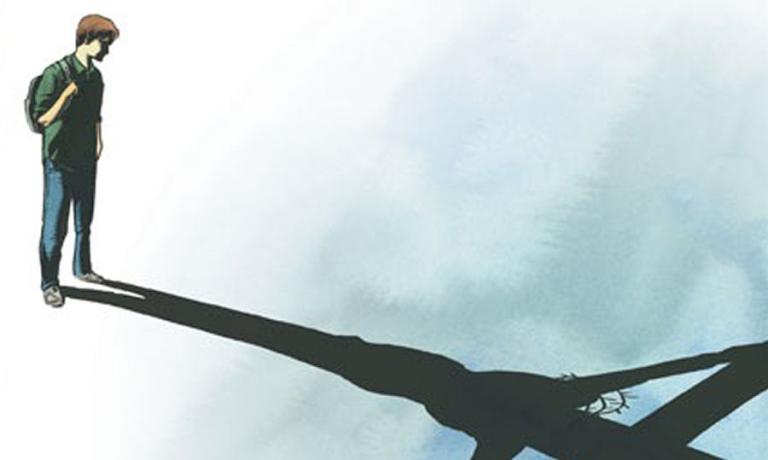 Last year, I mentioned that Netflix was developing a series based on Mark Millar's American Jesus, a comic book about a 12-year-old boy who realizes that he is the second coming of Jesus. Today I learned that the series has a new title, The Chosen One, and that it actually started filming two months ago — but, alas, the production has been paused because of a car accident that killed two actors and injured six other people.
Variety reports that Raymundo Garduño Cruz and Juan Francisco González Aguilar were the two actors who died as a result of the injuries they sustained in the crash. The six injured passengers included two other actors and four crew members, none of whom have been identified so far. The six survivors are all said to be in stable condition.
Variety also notes that the accident did not take place on the set but, rather, while cast and crew members were in transit to the local airport near Santa Rosalia in Mexico.
As noted above, production on the series has been paused for now. It is not yet known how the accident might affect the production in the long term.
Incidentally, this series probably shouldn't be confused with another Netflix series called The Chosen One. That show, produced in Brazil and released in 2019, concerns three doctors who have to deal with a faith healer and his cult when they set out to vaccinate the residents of a remote village against a new strain of the Zika virus.
June 21 update: Netflix and its production partner Redrum issued statements about the accident yesterday. Variety has the statements as well as some details about the two actors who died, who both had supporting roles and were in their late 40s.
The trade paper adds:
Variety spoke to a transport driver who is familiar with the road where the accident occurred and has worked on other shoots in Baja. He noted that long, exhausting hours for drivers are the norm in most productions in Mexico. The accident occurred in "the most dangerous stretch of road between Loreto and Mulege, full of curves and potholes," he said. "A lot of accidents happen there."

Additionally, logistics are an issue, with the nearest airport, Loreto, about four hours from the location shoot.

"We lost two very beloved peopled, we're all hurting," said an actor on the production who prefers to remain anonymous. He said the set was a hybrid of union and non-union actors. "It's a very good project, it's a shame it has been tainted by people writing as if they know what really happened."
Deadline says friends of the actors have raised concerns about the production:
Friends of Garduño and González spoke out on Sunday asking for a thorough investigation alleging there were logistical and transportation issues with the production, among other accusations.

"This is a plea for justice for these deaths," said friend and novelist Rick Zazueta via Facebook. "This was no ordinary accident, the cast had been complaining openly about the logistical and transport issues faced in this production, calling it illogical, unreasonable, ignorant, and stupid. The conditions of the van were completely unfit for the purpose of transporting people; worn out tires, noisy brakes, loose steering wheel, not all seat belts worked, easily identifiable signs of danger. But, the show must go on, and the actors get wrapped up in the artform and want to work, and don't get as many opportunities to work, so they take these gigs with big dreams of Netflix and the promise of a small paycheck."
Variety says the production is expected to resume "after the current investigation and a period of mourning has passed, according to sources close to the production."