by Jim Ball
Recently the heads of 12 environmental organizations were asked to rank the greenest Presidents in US history. Now, think to yourself, what's the most liberal, the most radical of the major environmental organizations? Many of you will have chosen Greenpeace for that distinction.
Now, which President would you think the head of Greenpeace, Phil Radford, would choose as the greenest President? Barack Obama? Nope. Nyet. Nada.
Maybe Jimmy Carter or Bill Clinton or LBJ or FDR? Gotta be a Democrat, right?
Phil's choice for the greenest President was Richard Milhous Nixon.
Yep. That guy.
Phil's second choice was Gerald Ford — meaning the man who fulfilled the remainder of Nixon's second term, fulfilling his policies with Nixon's environmental point men.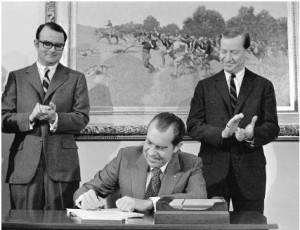 Nixon had a "dynamic duo" on the environment: Russell Train and William Ruckelshaus. Mr. Train died Monday at the age of 92. Much of the credit for President Nixon's and President Ford's environmental achievements goes to Mr. Train. He is rightly regarded as one of the most important environmental policymakers in the history of the United States.
Unlike another "green" Republican President, Teddy Roosevelt (who came out number 1 in the rankings), President Nixon wasn't motivated by a strong love for the rest of God's creation. The other part of Nixon's environmental dynamic duo, Bill Ruckelshaus, his first EPA chief, recalled that not only did Nixon not care about the environment personally, "he wasn't [even] curious about it."
But Russell Train did care. In the early-60s he founded a conservation group and then quit his job to head the Conservation Foundation in 1965. In 1968 he led President-elect Nixon's transition committee on the environment. As part of the Administration, Mr. Train spearheaded both the creation of the Council on Environmental Quality (CEQ) at the White House and the creation of the EPA. In the Ford Administration he became EPA Administrator.
Notable environmental legislation during these Administrations included:
The 1970 Clean Air Act
The Endangered Species Act
The National Environmental Policy Act
The creation of the EPA, and CEQ, and the environmental legislation passed during the Nixon and Ford Administrations represent the foundation upon which most environmental policy rests.
In 1991 President George H. W. Bush awarded him the Presidential Medal of Freedom, our nation's highest civilian honor, which was richly deserved.
Please pray for his family and all who mourn his passing. And let's all celebrate his life.
Well done, good and faithful servant.
The Rev. Jim Ball, Ph.D., is EEN Executive Vice President for Policy and Climate Change and author of Global Warming and the Risen LORD.