One of my favorite commentaries is The New International Greek Testament Commentary.
While I don't own the entire set, I have several volumes. The most recent I've obtained is The Epistle to the Thessalonians. I've been thumbing through it, and like the other volumes in the series, I've found it to be helpful.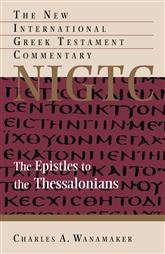 Here's a description from the publisher:
The letters of Paul to the newly founded Christian community at Thessalonica hold a special place within the Christian tradition as possibly the earliest extant Christian writings. They are also of special interest not only for their theological value but for their sociological context. Among the communities established by Paul, the church at Thessalonica appears to have been the only one to have suffered serious external oppression. These two important epistles, then, speak uniquely to contemporary Christians living in a society often ideologically, if not politically, opposed to Christian faith.
In this innovative commentary Charles A. Wanamaker incorporates what may be called a social science approach to the study of 1 and 2 Thessalonians, taking into full account the social context that gave rise to Paul's correspondence.
While Wanamaker in no way ignores traditional historical-critical, linguistic, literary, and theological approaches to writing a commentary — in fact, at several points he makes a significant contribution to the questions raised by traditional exegesis — at the same time he goes beyond previous commentaries on the Thessalonian correspondence by taking seriously the social dimensions both of Christianity at Thessalonica and of the texts of 1 and 2 Thessalonians themselves.
In blending traditional exegetical methods with this newer approach, Wanamaker seeks to understand Pauline Christianity at Thessalonica as a socio-religious movement in the first-century Greco-Roman world and attempts to grasp the social character and functions of Paul's letters within this context.
A significant and original addition to the literature on 1 and 2 Thessalonians, this commentary will be valuable to scholars, pastors, and students alike.