As most of you know, I'm deeply into my complete rewrite, revision, and expansion of my book The Untold Story of the New Testament Church, which I hope to release over the next few years.
(If you're are new to my work and you weren't aware of this, DO NOT buy the old version. It's flawed and grossly incomplete. Wait until the new version releases.)
As I write the new revision, which currently is triple the size of the old version, I'm aiming at making it the most complete treatment of what happened between Pentecost and Patmos in the first century, blending together the story of Acts with all the epistles.
I'm currently up to the 311th draft with over 1,900 footnotes, utilizing the best resources by scholars and historians to support my findings (both classics from the past and the most current works).
Alan Bandy's An Illustrated Guide to the Apostle Paul: His Life, Ministry, and Missionary Journeys is one such source.
Bandy has produced an excellent illustrated guide to Paul's life, travels, and ministry.
Recently, I caught up with Bandy to discuss his book.
Enjoy!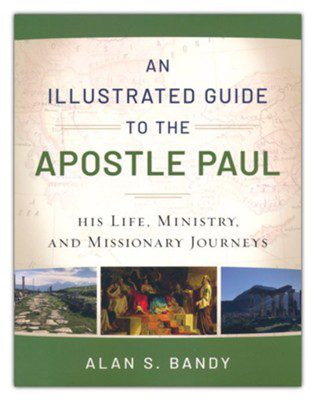 How long did it take you to the write the book from the very beginning to the time you turned the manuscript into the publisher?
It took about eighteen months from start to finish. I wrote at least one of the chapters sitting in a coffee shop in Athens Greece. I am also one of the few who were thankful for the Covid lockdowns of 2020 because it gave me the time and opportunity to finish the book with few distractions.
Near the start of writing my brother suddenly passed away and by the end of the book there was a global pandemic. This book is deeply personal to me and was born out of very difficult times.
When someone hears about a book and they ask, "What is your book about?" what they are really asking is, "What's in it for me?" In other words, what will I get out of reading your book? What is the pay off for my time and energy and the cost of the book? What's in it for me? Please answer that for readers. What's in it for them?
My goal in writing this book was to flesh out the context, people, and real-world life of the Apostle Paul. I believe readers will encounter the life and journeys of Paul vividly and memorably as they experience the people, places, and events that are so central to the New Testament and spread of the early church. More that, there are numerous spiritual insights that will hopefully enrich, guide, and instruct.
Have you gotten any push book so far from critics? If so, what where their criticisms and what is your reply to them?
Surprisingly, no. I write with my own internal critic, so I second guess every sentence. As such, I research thoroughly to ensure that what I say is based on the best scholarship. That's not to say I didn't venture some of my own views and perspectives throughout the book.
Another reason I suspect is that this book was not written for scholars, but regular believers. Remarkably, I have received dozens of emails from pastors and church members from all over the country to tell me how much they enjoyed my book and how much it spoke to them.
Name three WOW moments that you experienced during the research for the book?
Since this book really is the culmination of a decade of teaching a university class on the Life and Literature of Paul, there have been dozens of wow moments. I'll name three from writing the book. The first, at the end of Paul's third missionary journey he wants to walk alone from Alexandria Troas to Assos.
While I have been to both those locations on numerous occasions, on one trip while writing my book (early in the process), we pulled the bus to the side of the road between Assos and Alexandria Troas to see the actual road that Paul walked. When I placed my foot on those ancient stones overlooking the hilly pasture lands, I was overwhelmed with emotion—it was very special moment.
The second came while writing about Paul's attempts to go to Asia Minor during his Second journey. The Holy Spirit prevented him twice and directed his path to Alexandria Troas instead (and to Macedonia). I was sharing how God directs us even in the challenges and disappointments.
That was at the beginning of the pandemic and I was currently in talks to take a new job in New Orleans. Long story short, despite the economic and institutional challenges posed by the pandemic, I moved to New Orleans that summer. I drew heavily upon the lessons of Paul's life while navigating my own journey.
A final wow moment was Paul's arrest in Jerusalem and imprisonment in Caesarea. It's hard to put in words, because there was so much I learned and saw in them that collectively it impacted me. Paul's determination to go Jerusalem know that he was going to suffer, but willing to go to suffer for Christ.
Paul's brilliant interaction with the Roman Tribune who arrested him. The Roman was so impressed with Paul he made it is priority to protect him. The way Paul handled himself through his interaction with the Sanhedrin, Felix, and Festus was so personally instructive to me.
What was the most difficult part in writing the book?
Aside for the life events and losses, I would say it was the final edits and preparation for publication. My original draft was 26,000 words over, so I had to make a lot of cuts. Most of the material I cut was a lot of the copious details about cities, roads, and other historical tidbits.
My edits made the final product more readable, but hours and hours of research were cut. I also had to choose every picture and map. In many cases, we had to create new maps. I loved the process, but it was a lot of work once I thought I was done with it.
Paul says that he was beaten with rods three times (2 Corinthians 11:25). We know one of those times was in Philippi. What is your best educated guess as to where the other two beatings took place?
Excellent question. There is a fourteen-year gap between his return to Jerusalem after his Damascus Road encounter. These are sometimes referred to as the unknown or Levantine years. Acts tells us he went to Syria and Cilicia – the principal city of Cilicia is Tarsus.
I think he went home and during those years he shared the gospel and started churches. At the beginning of his second missionary journey, he went to Cilicia to strengthen the believers there.
The pattern evident in his ministry is that he often faced hostility from his success in the synagogue. It likely that the whippings and beating with rods, not recorded in Acts, occurred during the fourteen years.
I believe that when Paul went to Ephesus (Acts 19), he did so to train workers. Just as Jesus trained workers in Galilee. (I lay out the evidence for this idea in Finding Organic Church.) We see the names of those workers in Acts 20:1-4. Many scholars don't recognize this, but instead, argue that the only purpose of those men was to bring the relief fund to Jerusalem, something Luke hardly mentions.

We know form piecing together the Epistles with the narrative in Acts, they were present with Paul in Ephesus for the three years he was there. I was happy to see you make this statement as it confirmed my observation: "it's likely that Paul discipled, trained, and sent out messengers to spread the gospel throughout the region." An Illustrated Guide to the Apostle Paul, 122. Please expand your statement (above) further in relationship to this issue.
Right, it was during his time in Ephesus that the Gospel went to the Lycus valley to the cities of Colossae, Hierapolis, and Laodicea. There is no indication that Paul started the churches there, although he likely could have visited on some occasions (it's not far from Ephesus).
Paul would not have been idle or only doing evangelistic work. Paul was intent of the discipleship and equipping of believers for ministry. His letters, themselves, give us ample enough evidence that he was focused on disciplining and training. We have precious few details about his three years in Ephesus in Acts although Luke gives us the significant highlights.
That they rented space in the afternoons in the lecture hall of Tyrannus suggests that Paul utilized that time to teach extensively.
When Paul went to Berea on his second apostolic journey, was it the summer? 
Based on when he was in Athens and Corinth, I think it would likely have been in the summer.
Scholars debate as to whether Paul sailed to Athens or walked there? What say you and why?
Yes, he would have sailed. There was a port on the coast, although some distance away. The Tripotamos river runs through Berea, but it was not a very large river.
It's possible they walked or had a way to navigate the river to the coast. The land route from Berea to Athens involved steep mountain passes. The best way to get to Athens was by sea. Given the narrative has him arriving rather quickly from Berea to Athens suggests a sea route.
Luke says that many prominent or leading women were converted in Thessalonica. What made them prominent or "leading"? What may they have done? Could they have been part of the civic assembly?
Prominent or leading women of a city would have been wealthy upper-class women. They're status may have in part been from their husbands who were likely civic leaders.
While women did not typically serve in official civic responsibilities, there is evidence that some women held prominent positions. Nevertheless, high status wealthy women had influence and respect in a variety of capacities.
Some scholars believe Galatians is Paul's first extant book in our NT. What say you?
I do believe that Galatians is Paul's first letter and was written around 47-49 AD.
What else would you like readers to know about your book?
I tend to think visually and writing this book was like walking with Paul in color with surround sound. More than anything, I want people to experience Paul's life and ministry.
I hope they come away with a deeper understanding of Paul and may be inspired to follow his example as a model for following Christ.