As many of you know, I'm currently revising and expanding my 2005 book The Untold Story of the New Testament Church.
During my research, I was talking to one of my favorite New Testament scholars — Robert Banks, author of Paul's Idea of Community — about some issues related to first-century family life and the size of houses in that day.
Banks referred me to Early Christian Families in Context by David L. Balch and Carolyn Osiek, which the publisher graciously sent.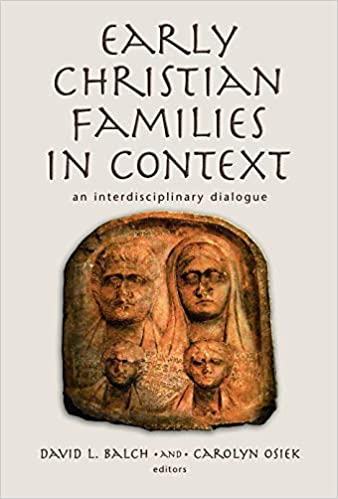 This is a marvelous book!
It covers the most updated research on Greco-Roman families and households including its architecture (with photos and diagrams).
The book also covers sex, marriage, slaves, children, et. al. in the first century.
Many scholars contributed to this work, and it's a top-shelf academic piece of research.
I'll certainly be citing it in my revision of The Untold Story.
This is from the publisher:
"Typical studies of marriage and family in the early Christian period focus on very limited evidence found in Scripture. This interdisciplinary book offers a broader, richer picture of the first Christian families by drawing together research by experts ranging from archaeologists to ancient historians. / By exploring the nature of households in the ancient Greco-Roman world, the contributors assemble a new understanding of ancient Christian families that is both compelling and instructive. Divided into six parts, the book covers key aspects of ancient family life, from meals and child-rearing to women's roles and the lives of slaves. Three concluding chapters explore the implications of all this information for theological education today."
Wayne Meeks writes of the book,
"Hardly any issue is more central to the social history of early Christianity than understanding the structure and character of the ancient household. This fine collection of diverse but richly complementary studies moves the discussion of that topic significantly forward. "