Nikola Dimitrov has joined the ranks of those who have put together a chronological integration (harmony) of the four Gospels.
I caught up with Nikola recently to talk to him about his new Gospel harmony, The Four in One Gospel of Jesus.
Enjoy!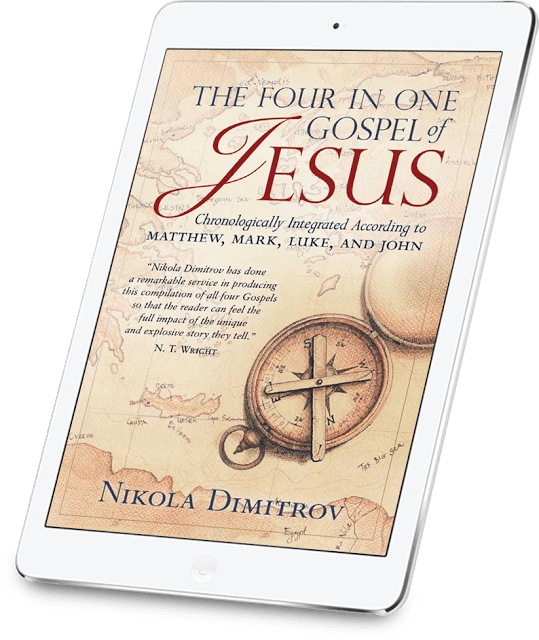 Frank Viola: Tell us about your education, teaching history, and your work as a New Testament translator.
Nikola Dimitrov: My professional education is in the area of the English language. As soon as I graduated, I started translating audios, videos and books, of famous English speaking preachers and teachers. It was 1992 when I started, just 3 years after Communism fell in Bulgaria, and there was an enormous spiritual hunger for Christian materials. Almost nobody knew English at the time, so access to these materials was restricted for the church people. For the past 25 years I've translated nearly 1000 audio and video teachings, as well as more than 40 books, in the area of prayer, intercession, the Church as the Body of Christ, Christian history and theology, family, education, etc.
Along with my translations, as of 1994, I felt the call of God upon my life, to dig deeper into the Word of God and to start preaching and teaching it to the people the Lord would send me to. Doors started opening and I started a couple of churches, travelled around the country, helped with a Prison ministry and volunteered in a Charity, preaching a total of more than 1000 public sermons and lectures, as well as translating live for many foreign missionaries that would come to Bulgaria.
Since the year 2000, I assumed the responsibility of a Media ministry that would translate, publish and distribute Christian materials in Bulgaria, as well as I started teaching in an improvised Bible school in our mother church center. Today I lead two churches in two different locations and continue teaching, preaching, educating, translating and writing at full speed.

Frank Viola: A number of people have compiled books that compiled the Gospels together to create one cohesive story. One was Johnston M. Cheney (The Life of Christ in Stereo), and another is Robert Mounce (Jesus, In His Own Words). How is your book different?
Nikola Dimitrov: There are many similar attempts to make a Gospel Harmony, which are very nicely done, including the ones You are mentioning. The differences between them, and mine are:
1). All similar materials I have seen mix the stories that are the same in more than one Gospel in a selective fashion, using only the most important facts of a given story, to provide its essence. The Four in one Gospel of Jesus contains every single word and punctuation that is part of at least one of the Gospels. You get the fullness of each story, without missing the slightest detail. There is nothing added by me, nor there is anything taken out. If it is somewhere in one of the Gospels, it is also a part of The Four in One Gospel of Jesus – word for word.
2). Mine has full reference of every sentence, word and comma used, within the text itself, while all others I have seen are partial, putting their references at the end or beginning of each paragraph or even a number of paragraphs (like Robert Mounce), or use a very complicated structure of reference (like Johnston M. Cheney). With The Four in One Gospel of Jesus, every time a word or a phrase from another Gospel is used, there is a reference within the text itself, so, at any given point, one can put their finger somewhere in the text and immediately check from which Gospel that specific word, phrase or sentence comes.
3). The chronology I have used, to depict all events in the life of our Lord, is consistent with the most recognized sources in this area – Matthew Henry's Tabular Harmony of the Gospels, The Orthodox Bible Harmony Chart, The International Standard Bible Encyclopedia and many others. The similar materials I have come in contact with either use a chart format, or, if in a Novel type of a free flow of text, have not included every single chronological event, but are combining events for deductive purposes.
4). Finally, my material underwent 15 cover to cover revisions by a whole team of professional editors, most of whom also recognized theologians and historians themselves. That's why the book received the endorsements of people like Professor N.T. Wright, Dr. Kenneth Boa, Dr. William Murray, Dr. Jerry Newcombe, Dr. Sean McDowel (son of Josh McDowell) and that's why the book has already become part of the Oxford Centre for Christian Apologetics Library.
Frank Viola: For readers who aren't familiar with your book, share with us what it is and how it's different from other Bibles.
Nikola Dimitrov: The Four in One Gospel of Jesus is a chronological and contextual blending of the four Gospels in the Bible. It's fully referenced, meaning little numbers and Gospel names unobtrusively show where each blending comes from, and at the same time, it's in a Novel format, allowing for a smooth reading.
Here's a quick example:
The Gospel of Matthew says that Jesus touched the hand of Peter's mother-in-law, and the fever left her (Matthew 8:15). Mark says this was not just a simple touch, but Jesus actually took her by the hand, and lifted her up; and immediately the fever left her (Mark 1:31). Luke adds something that is missing in both Matthew and Mark, namely that Jesus stood over her, and rebuked the fever; and it left her (Luke 4:39). The fact that the fever left Peter's mother-in-law is the same, while each Gospel writer adds a new element to the "process" of her healing and thus, to the whole picture.
In The Four in One Gospel of Jesus this passage would look like this:
"Jesus came, stood over her, rebuked the fever, touched her hand, took her by the hand, and lifted her up; and immediately the fever left her".
So, we get the complete picture by adding and mixing all the words and details that are unique in each of the four Gospels. When the chronology is applied to the whole story of the life of Jesus, The Four in One Gospel of Jesus emerges.
Frank Viola: What inspired the idea to create this particular book? And who is the primary audience?
Nikola Dimitrov: Ever since I became a believer and read for the first time Matthew, Mark, Luke and John, I couldn't but notice some stories were repeated in more than one Gospel, but each one would use additional details not present in the former one. So, the idea came to me to combine the Gospels chronologically and contextually, so that the fullness of each story is accomplished, without the repetitions and without adding or taking away anything from the Bible text itself.
The second reason was that no unbeliever would read Matthew, Mark, Luke and John one right after another, but why not reading one whole story in a Novel format, so I just wanted to produce a material that could be used for a successful evangelism.
Finally, in a predominantly secular country, many people argue that the four gospels contradict each other and that disqualifies the credibility of the Bible. Some Christians even like to say that contradictions from different sources, when it comes to the same story, are actually proof of the credibility of that story. I do NOT believe that. That's why, I wanted to combine the Gospels, so I could prove beyond any shadow of a doubt, that all these seeming "contradictions" are actually beautiful complementations, revealing the fullness of each story.
My primary audience is pastors, leaders, preachers, history lovers and everyday Bible readers, as well as unbelievers who get the book as a gift from their Christian relatives or friends.
Frank Viola: If someone were to ask you, "I'm a Christian who reads my Bible regularly. Why would I want to read your book? What benefit would I have in doing so?" How would you respond?
Nikola Dimitrov: Reading your Bible is an absolute must. Keep doing that. The Four in One Gospel of Jesus is NOT a substitute for the 4 gospels. Each of them has a specific purpose, because it was written to a specific audience. My material is rather an additional help material, which provides clarity and fullness to each story that repeats itself in more than one Gospel. And if You are like most readers of the Bible, You would read a story in Matthew and You would NOT go immediately to find the same story in Mark and Luke, You would continue reading Matthew until You reach Mark naturally, and then Luke, but by the time You reach the same story in Mark and Luke, which You read initially in Matthew, You would for sure have forgotten ALL the details in Matthew. The Four in One Gospel of Jesus fixes that.
Also, when You get to a more complicated story, like the story of the Resurrection, how do You decide which comes after which? Who saw Jesus first, after the Resurrection, who saw Him second, third, fourth, etc.? How many times people entered the tomb? How many times angels came and was it one angel, two angels or more? The Four in One Gospel of Jesus incorporates a unique chronology system, which puts everything in perspective, in a very easy to understand format. For example, the above story of the Resurrection follows the following logic:
Early in the morning Mary Magdalene visits the tomb with some other women. They enter in and see that the body of Jesus is not there.
Mary Magdalene runs to tell Peter and John, while the other women remain at the tomb and experience the two angels, who tell them Jesus has risen, so they are to go and tell the disciples. The women leave the tomb and on their way to the disciples they see Jesus. Mary Magdalene couldn't have been with them, because when she goes to Peter and John, she tells them somebody has taken the Lord and she has no idea where they put Him. Moreover, when she sees Jesus, before recognizing Him, she thinks He is the gardener. So, at that point, she couldn't have seen the angels the other women saw, or she would know Jesus had risen.
When the other women leave the tomb, Mary Magdalene arrives with Peter and John. They both see the tomb empty and return home, while Mary stays and sees Jesus. She then goes to the disciples too and along with the other women, they tell the disciples.
Frank Viola: What do you say to those who would criticize your book, alleging that the Gospels were never meant to be compiled together. But instead, read as stand-alone documents.
Nikola Dimitrov: The Gospels are indeed to be read as separate documents, to get the four different perspectives of the writers, in proper context.
On the other hand, the word "Gospel" simply means "Good news", so the New Testament does NOT reveal 4 different Good news. The Gospel is actually one – the proclamation of the Good news that Jesus is the King of kings and Lord of lords, the Messiah, the Representative of Israel and humankind, Who came to defeat death, hell and the grave, and Who gives us victory over the powers of darkness, by translating us into His marvelous kingdom of Light. So, in that sense there's not such a big issue to have One Composite Gospel, blended from the four gospels, to depict the whole story of the life of that King and Lord, and do it in a chronological and contextual fashion, for a simplified, bird's eye view of the four accounts in the New Testament.
I would also counter any critics by saying that attempts for similar Gospel Harmony have been done by far more prominent apologists and theologians than me, some of them coming from as early as the II century, like Tatian's Diatesseron. Also, The Four in One Gospel of Jesus does NOT have ANY pretense to take the place of the Gospels – on the contrary – it's main idea is to make the Gospels more understandable by providing a different approach to uncover their full meaning.