Every book interview on this blog is not an endorsement nor a non-endorsement of the book being featured. Readers may interact with the authors in the comments section, but
these guidelines
must be followed when commenting. ~ The Blog Manager
Recently, I caught up with Jerry and Denise Basel to discuss their new book, Loving God, Loving Myself.
Check it out!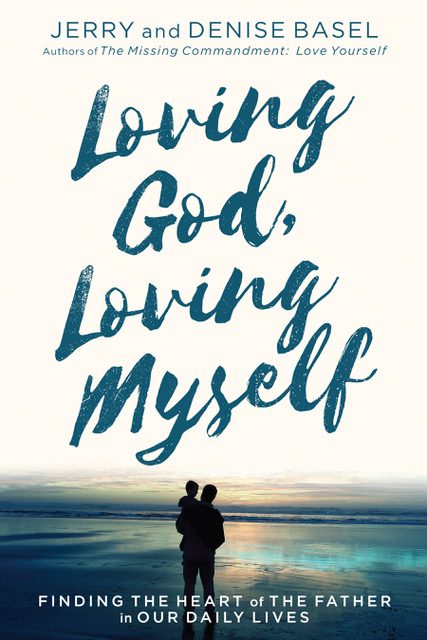 Instead of asking, "what is your book about," I'm going to ask the question that's behind that question. And that unspoken question is, "how are readers going to benefit from reading your book?"

Jerry and Denise Basel: After reading and working through our first book, The Missing Commandment: Love Yourself, many have asked us if we had another resource to help them continue on the road to wholeness. Loving God, Loving Myself is our answer to their request.
Whether you've read our first book or not, this book takes the readers deeper into their own hearts and into God's. We believe those who read the book will be inspired by the stories and the scriptural truths that we share. These reveal the depth of how much God loves us and how much he wants us to love ourselves in the same way.
We have provided space so readers can write down the impact the stories have on them. We have found the daily readings give hope and insight for deeper healing.
Share with us some of the experiences that shaped the insights in the book.

Jerry and Denise Basel: Many of the insights shared in this book have come from experiences that we have witnessed in our work as counselors for over 20 years. There have been many, many times when God's healing presence came so strongly that his love and tenderness were profound. These "a-ha moments" with God are life-changing and can impact others in the same way when the stories are told. We also share our own experiences of God's healing of our hearts—experiences that many readers will identify with.
How is this book different from your previous book, The Missing Commandment: Love Yourself?
Jerry and Denise Basel: Loving God, Loving Myself is different in that it is a compilation of fifty-five inspirational readings that correspond with the eleven chapter topics in The Missing Commandment: Love Yourself. In contrast to our previous book, it is not designed to take the reader through a process of identifying where they do not love themselves and finding healing for this—though this may still occur. Instead, it is designed to be used as a devotional for an individual or for a couple, and can be helpful for those who have read our previous book as well as those who have not.
Some are also using it with small prayer groups or using the stories in their teaching. Some of the daily writings are inspirational while others are informative and instructional. These help individuals better understand themselves and their own life story. This hopefully will bring forth a greater connection between their heart and God's.

Give us two or three insights from your new book that would be helpful to most Christians.

Jerry and Denise Basel: This book is not just about the truth of God. What makes it different is it takes us into the heart of God himself. Here he shows us his deep longing and compassion to heal the broken hearts of his children and set them free. The stories show us that God feels, and when we know how God thinks and feels about us, it can enlarge our heart and increase our capacity to love.
And along with that, it shows us that God is not far off, but is right here, with his arm around us, and he will never, ever leave us.
You have an interesting chapter on anger. Share some of those insights on anger with us.

Jerry and Denise Basel: We call this chapter, "The Price of Not Doing Anger." It is a common belief among many of our new clients that anger is bad and should be avoided at all cost. Many have seen or experienced how anger can be hurtful to others—and it can. However, Jesus expressed anger in healthy ways and so can we.
I (Jerry) grew up in a home where there was a lot of anger. I believed that all anger was damaging and hurtful, so I decided that I wanted nothing to do with it. But what I didn't realize was that not expressing it was also unhealthy.
Anger says that something matters. Typically, it is just a pointer to something deeper, like pain, fear, or grief. And when God began to bring my stuffed anger to the surface, the walls around my heart started to come down. It was then that I began to realize the price that I had paid for shutting down this emotion—especially how much it closed off my heart to life and to my closest relationships.
In all the years of counseling you've done, what do you see as the biggest problem that keeps people from making progress in the things you share with them during your counseling sessions?

Jerry and Denise Basel: In our experience, the biggest hindrance to making progress in the healing process is when people are unwilling to yield to God's path for healing. We believe that this path involves embracing godly weakness, vulnerability, brokenness and godly grief. It involves a willingness to surrender self-protection and to trust him with the process.
Then again, when people choose self-sufficiency, self-reliance and pride, it can make them unteachable, and therefore block their healing. Jesus modeled the path of godly weakness and vulnerability. Unfortunately, this is often at odds with what the Western world—and sometimes even the Church—promote.
What has the response been to the book so far?

Jerry and Denise Basel: The response to Loving God, Loving Myself has been very encouraging. It is impacting people in the ways we envisioned. It's taking them deeper into God's heart and helping them continue moving forward, day by day, in their own healing journey. Some have said that the personal stories in the book helped them to see that they were not alone, and also gave them hope in the midst of their healing process.
We believe the book is a valuable resource for those desiring to establish the Father's love as a new foundation for their lives. And from that new foundation, they will expand their hearts to more deeply love God, love themselves and love others.
NOTABLE QUOTABLE
We learn early on, "Don't talk. Don't feel. Don't trust." We learn to wear a mask, to project a false self and stuff down our real self—the one Jesus Christ came to heal and set free. Christ did not come to save our false self. He did not come to extend love and forgiveness to the mask.
—Jerry and Denise Basel,
Loving God, Loving Myself (p. 30)