Many of you are aware that I'm revising and expanding my book, The Untold Story of the New Testament Church. The revision will be extensive, so if you don't have the original edition (published in 2005), hold off until the new version releases.
In my research for the book, I came across From Pentecost to Patmos, 2nd Edition: An Introduction to Acts through Revelation by Craig L. Blomberg and Darlene M. Seal.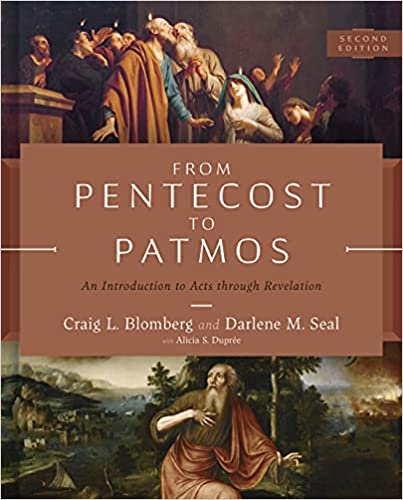 The publisher kindly sent me a review copy so I've been going through it.
I'm delighted with this volume. It's essentially a survey of the New Testament, but in chronological order. Which is terrific!
I was also encouraged that the authors hold to the South Galatian theory, that Galatians is probably Paul's first letter, that Ephesians was written from Rome and Paul was the principle author, and many other points where I felt the authors got the story right.
The book is laid out beautifully, and reads clearly.
I recommend this volume for students who are trying to understand the background to the New Testament, and I'll be citing it in my upcoming book.
Here's a description from the publisher along with endorsements from some high-voltage scholars:
Pairing depth of scholarship with contemporary application, the authors of From Pentecost to Patmos have produced a unique introductory New Testament textbook. Craig Blomberg and Darlene Seal provide the context and clarity that readers need to better understand Acts through Revelation, showcasing the historical, linguistic, and theological implications found in each book. This second edition includes expanded footnotes and a lengthier, up-to-date introduction to Paul. Newly added review questions, maps, and diagrams enhance the scholarship and make the resource truly user-friendly.
"This revised edition is a wonderful introduction to Acts through Revelation. Blomberg and Seal present important background information, key theological issues, critical interaction with scholarship, and most of all, engaging discussions of the texts themselves. By focusing on the most relevant exegetical issues and key themes, they have produced a very helpful guide to understanding the texts while giving us a fascinating picture of the life of the first Christians. This is an excellent resource that lays a most valuable foundation to help students of Scripture become more informed and capable interpreters."
—Michelle Barnewall, associate professor of New Testament, Biola University
"The second edition of From Pentecost to Patmos is a welcome update of a solid volume of introduction to the New Testament. It is both an introduction in the technical sense as well as an overview of the content of the New Testament, updated with the latest discussion about those texts. Well done!"
—Darrell L. Bock, executive director of cultural engagement and senior research professor of New Testament studies, Dallas Theological Seminary
"This new edition of From Pentecost to Patmos, now co-authored by Craig Blomberg with Darlene Seal, is a user-friendly introduction to the books of Acts to Revelation. It includes charts, maps, and questions for review after every major section, much as one would hope for from an introduction. But it also engages with the important critical questions in the field as well as in-depth literary and historical analysis through the text. This is a significant, user-friendly resource, engaging critical scholarship and providing pastoral reflection, a one-stop orientation to the world of the early church."
—Mariam J. Kovalishyn, assistant professor of New Testament studies, Regent College
"Craig Blomberg's scholarship on the Gospels and Parables has been a huge influence on my own scholarship. As far as I am concerned, any book by Blomberg is well worth reading. This new edition of From Pentecost to Patmos by Blomberg and Seal is no exception. The only New Testament courses that students are required to take in some college and seminary curricula are a semester or two of New Testament Introduction. Thus, it is imperative that these courses focus heavily on the content of New Testament books. From Pentecost to Patmos will serve students well by providing helpful introductions to each book from Acts to Revelation, followed by very thorough surveys that rival some shorter commentaries in length and engage the most recent scholarship. Their insightful applications make the text engaging and sometimes even convicting. Highly recommended!"
—Charles L. Quarles, research professor of New Testament and biblical theology, Southeastern Baptist Theological Seminary
"Where does one turn when you need more than a one-volume introduction to the entire New Testament, but individual volumes on Acts, Paul or the General Epistles are too much? This revised and expanded edition cements its role as the conservative introduction. It remains a marvel of covering so much ground in a deft but approachable style. All the essential topics are toured, all the beautiful places are visited, all the critical sites are explored. Blomberg is the expert guide trekking us through this part of the NT landscape."
—E. Randolph Richards, provost and professor of biblical studies, Palm Beach Atlantic University
"The second edition of From Pentecost to Patmos is a welcome updating of a book that was warmly received the first time around. The authors provide lucid and up to date discussions of Acts–Revelation that cover history, literary genre, structure, critical questions, content, and more! Professors and students will find that this text is well-suited to introduce them to writings that have changed the world."
—Thomas R. Schreiner, James Buchanan Harrison Professor of New Testament Interpretation and professor of biblical theology, The Southern Baptist Theological Seminary
"In this valuable second edition, Craig Blomberg, Darlene Seal, and Alicia Duprée give us clear writing, judicious commentary, helpful diagrams, and well-chosen and bang up-to-date references and bibliographies. Chapter by chapter, this book is well organized to introduce readers to key features of each of the New Testament books studied, as well as offering a valuable overview of Paul's life and ministry. The authors are very familiar with the New Testament books themselves, as well as the scholarly discussion of those books. They give evangelical students a clear sense of the strengths and weaknesses of different scholarly views, plus a sense of the direction of the scholarly field. Readers of this book will be educated, illuminated, stimulated, and encouraged to reflect on the impact of these vital biblical texts today. This book deserves a wide readership in seminaries and universities."
—Steve Walton, professor of New Testament, Trinity College, Bristol, UK