Allen Taylor has written a new book. It's called I Am Not the King.
I caught up with Allen recently to talk to him about his new book.
Here's the interview.
Enjoy!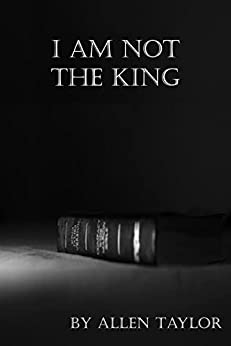 When readers ask "what's your book about?" they are really wanting to know "how is this book going to solve a problem I have?" How would you answer that question?
For many Christians, knowing what to say to others when witnessing is difficult. They don't feel comfortable with their knowledge of the Bible, or they don't have their testimony ready to tell. Maybe they feel hypocritical because they know they still struggle with some sin and don't feel worthy to share the gospel. They could be afraid of the reaction they'll receive. Whatever the case, we are called to be witnesses of the power and grace that can only be found in Jesus Christ, but many Christians are not living out that calling due to some of the reasons I just mentioned.
Testimonies make strong witnessing tools because they're personal stories. We live in a culture that values those types of stories and the world is ripe right now for good faith-based stories. That doesn't mean the story must be inspirational, uplifting, smarmy, or canned. It just needs to be a good story that shows the power of God's grace.
At one time, the church shared testimonies. Christians were encouraged to tell each other, and the world, how God has worked in their lives. I Am Not the King is my attempt to take the oral testimony format and make it literary.
A testimony of faith does three things:
It blesses and encourages other Christians – When we see evidence of God working in other people's lives, it should encourage us and strengthen us spiritually. That's what I hope I Am Not the King.
It provides evidence of God in a way that nonbelievers can easily digest – Rather than preach a sermon, quote Bible verses, or argue philosophy with our non-believing friends, we do them a much better service by sharing how God has worked in our own lives. Personal stories can't be disputed. Bible facts can. That doesn't mean we should never quote the Bible or that we can't use it as a witnessing tool, but personal stories of faith engage people's imaginations and can touch people where mere facts can't. I encourage my Christian readers to share my story with their unbelieving friends, particularly if there are common elements between their lives and mine.
It fulfills the Great Commission – Sharing the gospel message is the church's foremost mission. There isn't just one way to do that. Personal testimonies are one way. I share my story with others because I want people to see that coming to faith in Christ does not mean that one becomes perfect overnight. There are struggles, pain points, and many things to unlearn as we walk with the Lord. My story shows a period of growth, along with some spiritual setbacks, which I hope will encourage believers and unbelievers alike so that no one gets the impression that our salvation, redemption, and sanctification are things we can accomplish for ourselves alone. There are many ugly parts to my story, but I Am Not the King ends with the light of Christ and that's what our witnessing is supposed to show.
I also hope believers and unbelievers alike get the impression that one can believe in Christ without "toeing the party line." Being a man of ideas, I have spent a lot of time thinking and rethinking precepts that are often taught in church, or that believers have picked up on from the culture and each other, and I Am Not the King illustrates that one can have faith in Christ without following the herd. For example, being an evangelical doesn't mean one must be a Donald Trump fan or a card-carrying Republican, nor does it mean that one must support every progressive initiative that claims to be in the spirit of the gospel. My story illustrates that God has created us to be individuals without necessitating that we succumb to individualism.
There are countless books on the subject you've written on, what is unique about your book? How is it different from all the others?
My book is a personal story of having grown up in a dysfunctional family with a temperamental father. Being the only son and oldest child, I internalized a lot of his rage and entered adulthood angry, broken, and confused. That may not be a unique story, but the first sentence of Leo Tolstoy's Anna Karenina reads, "Happy families are all alike; every unhappy family is unhappy in its own way." Someone, probably a psychologist, paraphrased it as, "Healthy families are all alike, but every dysfunctional family is dysfunctional in its own way." Having grown up in a religiously dysfunctional family, I can attest to that.
I Am Not the King is told in three parts with a Prologue and a concluding section titled Reflections.
Part I covers the period of my childhood. It describes what life was like growing up in a Holiness-Pentecostal fugue with a verbally abusive father and sets the stage for the rest of the story.
Part 2 covers my young adult years: leaving home, the military, college, my self-aggrandizing bisexualism anti-family sentiments, and the angry young man I had become.This period can best be characterized as a search for meaning in all the wrong places and I dabbled in philosophy, occultism, New Ageism, esotericism, and whatever I could find outside of God until an atheist college professor challenged me to think more deeply about spiritual matters.
Part 3 covers my life as a Christian and the many struggles I've encountered on my way to maturity, including struggles with Christian brothers and sisters, church leadership, job dissatisfactions, and Body of Christ issues.
My story is different than other books of this nature because it is my story. However, I'm not the protagonist. Rather, more of a supporting character.
I call it a "testimony" because a memoir is, by definition, a reflection of a person's memories during a certain period of their lives. That's not really what it is. And it's not a biography because it leaves out a lot of the mundane details one would expect to see in a biography. I wrote I Am Not the King to be a testimony to how God has worked in my life. Therefore, Jesus is the main character, but you often see Him working in the background.
There is another way that the book is different. At the end of each section, there are some discussion questions. I include these because I hope the book will be used by small groups, book groups, home churches, traditional churches, pastors, evangelists, and mature Christians as way to discuss matters of faith and where the cross intersects with our modern lives. In a world where unbelief runs rampant, often between church walls, there is a dire need for transparency and authenticity. I hope the discussion questions allow people to have frank discussions with their friends, believers and unbelievers alike, about the nature of sin, God's grace, and our need for Jesus. I've essentially made my life an open book (pardon the pun).
What provoked you to write the book? Give us a story behind the decision to take the time and effort to produce this book (which is no small task).
I've spent my entire life writing about everything other than me. Getting personal was the last thing I wanted to do. I've written poetry and fiction (with publications and awards), I've worked as a journalist and a newspaper editor (with several accolades of which I'm very proud), and I've spent the last 16 years making a living writing business content as a freelancer. About every 10 to 15 years, I reflect on the last stage of my life and think forward to where I want to go next. I Am Not the King is a transitional work for me in several ways.
First, it takes my writing in a new direction. More broadly, I'm working toward becoming a full-time author. More concisely, I'm working toward making a full-time living from my writing without chasing client work. I Am Not the King represents my first real effort at doing that through the non-fiction medium.I have another book, on a non-spiritual topic, due to be published by a small business press in March 2022.
Secondly, the Lord laid it on my heart to reveal parts of me that I've never revealed to anyone before. It's not a confessional, but I've had to search my heart and exhume some deeply buried mummies. For me, the best way to organize my thoughts is to write them down.
Finally, I Am Not the King is a response to some letters I received from my mother. She feels like she didn't do a good job of teaching her children and grandchildren how to be a good Christian. She sent my sisters and me, and my nieces and nephews, some letters to teach us, I guess, what she feels like she failed to teach us when we were children. In Mom's own soft-hearted way, they come across preach-y, and I don't agree with all her theological leanings. I felt the need to respond, so I sat down to write a letter of my own. It turned out to be rather long, but it didn't have the right tone. So, I let it sit for a year and rewrote it.
In the rewriting, I realized that I was writing my testimony. To my mother! But instead of sending it to her, I decided to publish it as a book. Before doing so, however, as a courtesy, I sent a copy to my parents and to my sisters and said, "I'm going to publish this and thought you might want to know what's in it before someone blindsides you with questions." They've all been very supportive.
As a writer, I've done a lot of work in private — using my imagination, researching subjects and writing about them, and doing my best to craft the perfect sentence. Much of that was because I was trying to hide from the truth of my life. I was running from my heritage. In a way, I was attempting to erase a part of who I am.
Writing was as much a crutch as it was a passion (and one could say the two went hand in hand). Therefore, I Am Not the King serves, in part, as an account for my life. Ultimately, I'm accountable to God, but I don't believe in "it's just between God and me," a Christian ethos that has become popular in recent years. We are all accountable to each other, and that's a big part of the reason why I felt the need to share my testimony. I didn't do it to make God happy, to impress anyone, or to atone for my sins. I did it to express my faith in Christ through a mode of communication that I'm familiar with and that I've spent so much of my time operating in.
That said, I believe the book market has room for personal testimonies. People talk about spiritual memoirs, but that's a vague term that doesn't carry a Christian mark (though it has been adopted by Christians from various corners of the kingdom). I wanted to put the emphasis on Christ, who is all in all, and to show how my faith has resulted in strides of personal growth, but I wanted to do it in a literary way.
Give us 3 points that you make in the book that would give readers a preview of it. Think of those 3 points as your movie trailer that will motivate people reading this interview to get the book.
The "points" are really impressions, or illustrations. I don't just tell people what to think. I hope, in I Am Not the King, I have shown readers parts of me and parts of God that allow them to arrive at the proper conclusions. Here are three primary illustrations I want readers to see:
God reaches us through unexpected ways (and in unexpected places) – In Numbers 22, God spoke through a donkey. He spoke to Moses through a burning bush. Scripture is full of strange things and strange ways that God speaks to people. He spoke to me through an atheist college professor, a scene which I describe in I Am Not the King. When I tell people that an atheist college professor made me want to believe in Jesus, their jaws drop. With God, you must expect the unexpected.
Forgiveness cannot be earned – My greatest sin (and I'm guilty of many) has been the sin of unforgiveness. I walked with a heavy heart toward my father for many years. In the end, it hurt only me. When I finally found the grace to forgive my father, despite his never asking for forgiveness, I felt a heavy weight lifted off my shoulders. I hope readers can see that change in me through the telling.
Faith in Christ does not lead to immediate moral perfection – Someone said my story is full of dark moments. That is true. And I have not always kept my head above the water, but we see examples in scripture of great men of God who were far from perfect. David, king of Israel, was a murderer and adulterer yet he is described as a "man after God's own heart." (Acts 13:22) The Apostle Peter was a man of weak character, but he is hailed as a hero of the faith and was martyred for the sake of the kingdom. I am nothing like David or Peter but coming to faith in Christ did not result in me forsaking all sin immediately (though one could argue that it should have). I've struggled, I've failed, but I've continued to believe. Eventually, God granted me the grace to overcome certain temptations. He's also given me the gift of a wife to humble me. As Christians,our righteousness is not our own. We wear a cloak of righteousness that is Christ so that we do not have to rely on our own. I hope others find that encouraging about my story.
For me, writing is not just a way to convey information. It's a way to explore life's intricacies in a way that connects with others on a deeper emotional level. I Am Not the King is a story that I hope does that well in the tradition of other great stories.
What have been the biggest objections you've had to the book so far? And how do you respond to them?
One thing I've heard, which isn't so much a rejection, is that I wrote it as a means of self-healing. That isn't correct. Jesus has healed me of all the wounds from which I need healing. I do not need to, nor can I, heal myself of anything spiritually. Christ did all that needs to be done on the cross. I Am Not the King is my way of showing the world that faith is not a recipe or a set of step-by-step instructions to be followed. It's a personal relationship with a personal savior and it deserves a personal explanation.
Another thing that I've heard is that I provide too many details about certain things. I understand that some people may not be comfortable with the level of detail that I've written, but there is a reason why I've included the details that I have.
I have not used real names for many people in my past because their implication in my sins isn't necessary. They deserve to have their privacy protected and I see no reason to reveal intimate details about their choices. I took certain liberties with my own choices because the point to telling a story is to illustrate something meaningful. The details I've included illustrate the kind of person I was before my second birth and the person Christ has made me since.
That could not be illustrated without certain details being disclosed, but I do my best to tell them in a way that is palatable. I chose specific events in my life that would illustrate who I was before Christ raised me to new life so that the young Allen Taylor could be contrasted to the man I would later become because of God's grace. If I have failed in that endeavor, then I pray that God can use my testimony despite my failures.
How can readers get the book?
The book launches on October 24. I Am Not the King is available on Amazon. The Kindle version is 99 cents until the end of October. It will soon be available at Barnes & Noble, Kobo, Apple, and through other major distribution channels.
Readers can also get a preview by downloading an excerpt for free and joining my mailing list.
Readers can learn more about me and future books on my website.
—
Are you an author? Would you like receive a full-length interview on your book on this blog?
If so, check out the SCRIBE online training for authors. Everyone who goes through the training receives a free interview right here on Patheos.
SCRIBE opens twice a year for registration (the entire training is online, so you don't have to leave your home). Join the wait list if registration isn't open and you will be notified. Go to AttendScribe.com