The Abide Bible by Thomas Nelson is an elegant edition of the Holy Scriptures.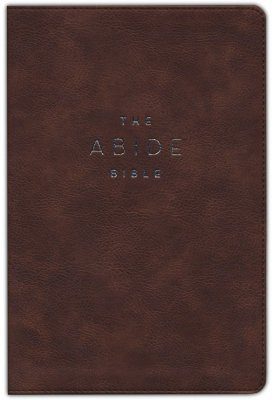 First, let's cover the physical features:
This is an attractive looking Bible that comes in an equally attractive box (see pictures). The Abide Bible I received has a brown Leathersoft (imitation leather) cover but has a realistic grain and texture. It has perimeter stitching which adds greatly to the durability.
Other noteworthy features are Thomas Nelson's exclusive NKJV Comfort Print which is a 9-point type size you'll truly appreciate if you've reached that age where font size really begins to matter.
Also, Smyth-sewn binding is a wonderful construction feature that allows the Bible to lay flat in your hand or on your desk regardless of where you have the Bible open to.
Now for the contents: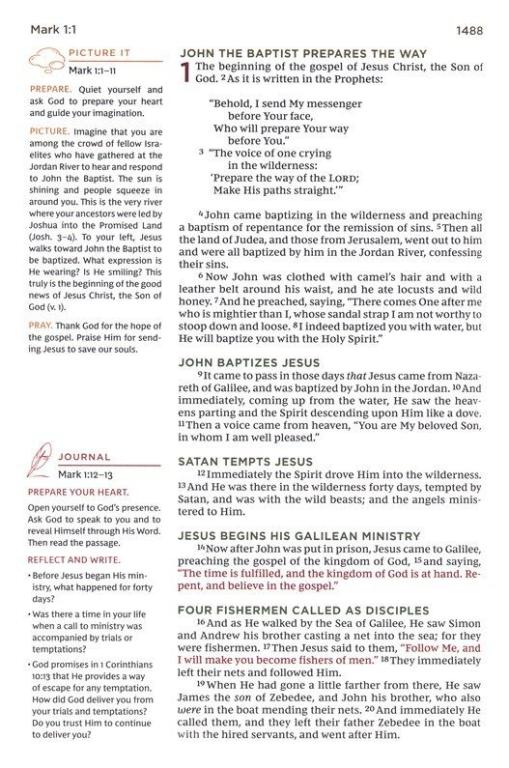 One of the first features you will notice are book introductions and historical and literary context for each book. But it gets even better.
I love the layout of this Bible; it suits the eye very comfortably.It is a single column text with the margins reserved for tools and ideas about how to engage the scriptures more deeply.
Some of those margin features include:
Praying Scripture: Pattern your prayers after biblical texts, personalizing the prayer and gaining language for the thoughts and emotions you want to express.
Picture It: Place yourself in a biblical narrative as a bystander or participant in important events.
Journaling: Focus and reflect on Scripture and its meaning for your life, opening yourself to God's voice as you ponder.
Engage Through Art: Consider a classic piece of art-photograph, sculpture, painting-and let it deepen your meditations on scriptural truths.
Contemplate: Follow the church's longstanding practice of reading, meditating on, praying, and contemplating a passage of Scripture in order to experience God's presence through the words of the Bible.
All of this additional material is in concert with the rich theme of abiding based on John 15:4.
While thematic Bibles have become trendy in recent years, the theme of abiding in Christ is particularly one worth pursuing. I'm glad Thomas Nelson teamed up with the Taylor University Center for Scripture Engagement to produce this creative and thematic Bible.
The thrust of the additional material is to foster greater communion with God while using the scriptures, a practice near and dear to my heart. Additionally, there are several helpful articles in the back with one titled Scripture Engagement vs. Bible Study (yes, there's a difference).
There is even a one-year reading plan if you're so inclined. Overall, this is an excellent Bible to consider if you are seeking basic help and equipping for greater intimacy with the Lord as you read the Bible.